Imagine working for an award-winning student newspaper, The Buccaneer. You'll learn about and work with current technologies, including cross-platform news and feature reporting via print and digital/social media, such as Facebook, Twitter, blogging, and more from experienced professors.
The Communication Study-Journalism Program strives to bring students the highest experiential learning environment possible. We achieve this with quality instruction and real-world experience on campus and in the community. We believe the news media play a vital role in today's Digital Revolution, American governance, the struggle for social justice and informed debate in an open society.
The Program is led by R. Riski, former print journalist and Fulbright Senior Specialist in Baku, Azerbaijan. Our students visit national conferences in New York City, Seattle and across the West Coast. Locally, we look to professionals at KONP Radio, the Peninsula Daily News, The Seattle Times, The Oregonian, MediaStorm, KUOW and KPLU.FM, and the Willamette Week to learn about trends in global publication.
---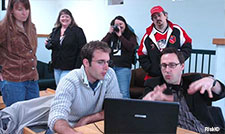 PHOTO:  Todd Heisler, 2006 Pulitzer winner, critiques a student portfolio, while freelance National Geographic photographer, Karen Ducey, far left, listen in at Peninsula College. Heisler won the prize for his sensitive work on Marine bereavement officers while serving at the Rocky Mountain News. Heisler shoots for The New York Times.
---
Quality instruction, stellar guest speakers
Past guest speaker luminaries include: 
John Brewer, AP Bureau Chief for Seattle and Los Angeles. Former New York Times employee and an influential leader.

 

Michael Knowles

, independent filmmaker with multiple prizes for his movies "Room 314" and "One Night" and an actor from TV's "Sex and the City."

Todd Heisler

, 2006 Pulitzer Prize winner for Feature Photography for

The Rocky Mountain News

coverage of fallen Marines in Iraq War.

Bill Curtsinger

,

National Geographic

photographer who pioneered Antacrctic undersea wildlife research.

David Burnett

, regular

TIME

and

National Geographic

magazine contributor and co-founder of Contact Press Images, who's documented many Olympics and every president since John F. Kennedy.

Nigel Jaquiss

, 2005 Pulitzer Prize winner in investigative reporting, who works for the

The Willamette Week

newspaper in Portland.
---
Attending workshops
We invite eligible students on unique, directed studies courses to National Writers Workshops, Bench-Bar-Press panels, Society of Professional Journalist workshops at UW and National Associated Collegiate Press conferences across the Pacific Northwest.
PHOTO:  At the National Writers Workshop in Portland, Jim Amoss, the editor of The Times-Picayune explains more about Hurricane Katrina Coverage to audience, including Peninsula College student, Joe Valle, center.  Read more about the Pulitzer work of Amoss and the Times-Picayune.
PHOTO:  Journalism students met with the state's top lawmakers and newspaper editors in Olympia in winter 2005. At the Governor's Mansion they met with Gov. Christine Gregoire. They are, from left, Kristine Sholinder, Shelly Zornes and Reina Boersma.
---
Superstars Interview with the Editors
Recent student editors of the award-winning Buccaneer gathered to discuss the state o  journalism and social media. Graduate and Buccaneer Business Manager Boneita Smith moderated the reunion of former managing editors Viola Ware, a student of Arizona State University, Liz Wasson, a Washington State University student and Jesse Major, a Pacific Lutheran University student, former reporter of The Messenger of Fort Dodge, Iowa, and currently a reporter at the Ellensburg  Daily Record.
---
What we strive for...
We strive to provide students with the skills for entry-level employment and a foundational academic base for transfer to a university in print media and evolving digital media careers. Peninsula College provides exciting opportunities to gain a foundational understanding in mass communications, the technological tools for digital communications, and the responsible role media gatekeepers play in a dynamic world. Finally, provide students with an ethical framework for decision-making based in the Society of Professional Journalists Code of Ethics.
---
For more information, please contact our Comm Studies-Journalism staff about specifics.
Rich Riski, Journalism Program Director
rriski@pencol.edu 
(360) 417-6469
Boneita Smith, Journalism Program Assistant
emeritusbonnesmith.bs@gmail.com
(360) 417-6489
Frank Garred, Emeritus Clinical Professor of Journalism and Adviser
fpg@olympus.net