By Patricia Morrison Coate  |  Sequim Gazette
The garage looks like any other large auto repair shop — guys and a gal with oil-smudged hands hovering over opened engines with the tools of their trade. Eight vehicles, from pickups, to SUVs and sedans, are being repaired cooperatively by students from ages 16-65.
Since the muscle car era, Peninsula College's Automotive Technology course has been cranking out accredited technicians in its two-year degree program.
"The program started in 1969 because there was a lack of technicians in the U.S.," said Mike Hansen, program coordinator. "We teach all eight categories of NATEF (National Automotive Technicians Education Foundation) engine repair: automatic transmissions, manual transmissions, drive trains, HVAC, electrical and electronic systems, engine performance, steering and suspension and brake systems."
Hansen noted that the PC program is one of four in the Pacific Northwest that also requires its students to earn academic certification in language arts, science and mathematics.
"Most programs don't go that deep," Hansen said. "We average 30-45 students per year between our first- and second-year classes, with both men and women. This quarter we have one woman but last year we had three and average 2-3 women every year."
Hansen was in the third class to graduate from the Automotive Technology program in 1976 and he began teaching at PC in 2001. He's earned accreditation with the Society of Automotive Engineers International as a Level I advanced hybrid and electric vehicle technician.
The 62-year-old Hansen is a full-time instructor assisted by Kevin Phillips and Doug Lorentzen, who teach the technical courses, and Hal Costello, who is in charge of the language arts, science and mathmatics curriculum.
Being in a NATEF program, which offers accreditation for automotive technician training programs, "brings students up to ASE (Automotive Service Excellence) standards so they can qualify to take the ASE tests," Hansen said. "It's not required but most shops give bonuses for every ASE test (in the eight categories) they have passed. We encourage students take the test as soon as they're done with the class." 
Of potential students, Hansen said, "They need to be able to do basic high school math and algebra, have good communication skills and have to be mechanically inclined — either they have it or they don't. If they can understand mechanics, we can teach them the rest."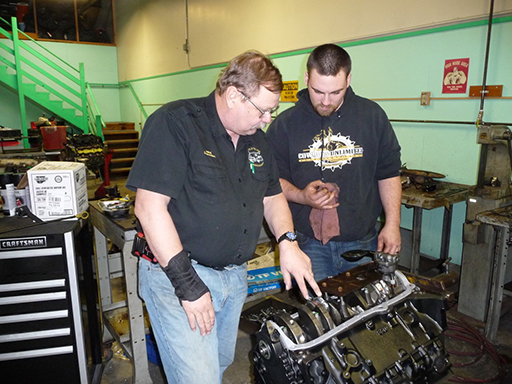 Hands-on hits the mark
One such student that has those skills and more is 23-year-old Brittany Baker, who will finish up the program in June after completing the manual transmission category.
Since age 5, she says, Baker was inspired to work on cars because her father had a race track. 
"I like the hands-on work and I got into this program because it is hands-on. Here you get to just jump right into it," Baker said. "The electrical is my favorite category because of the diagnosing, the wiring diagrams. With electrical, you really have to dig deeper."
Because of her bank of knowledge in and outside of the program, Baker has been working in the field for about a year at Rudy's Automotive in Port Angeles. 
"I do everything — adjust valves, water pumps, electrical — it's different when you're working on your own stuff rather than somebody else's. If something went wrong on my car, I did it myself."
As the only woman in the program this quarter, Baker is nonchalant.
"There are a lot more guys but nobody thinks of it any differently. Most of the guys are pretty encouraging about me being here and it kind of helps that I do better than most of them," Baker grinned. "A lot of students come and ask me questions."
Upbeat and outgoing, Baker said, "I'm able to look forward to every day. I get the learning experience and if I had not been in the program, I would not have the job I have now. My hope is that when I'm done, I will be making a more livable wage. The program has given me the experience to learn and grow. I don't expect instantly to make $25 an hour — I have to earn that privilege."
She also has high praise for the staff.
"It's a good program run by a lot of good guys — they definitely push for people to succeed. They really do set you up to succeed and Mike sets up a lot of stuff so people can learn this program and have it lead to a job," Baker concluded.
Paying it forward
A huge component of the program is the complementary hands-on experience in the lab with instructors getting their hands dirty, too, as they answer questions and advise.
"The cars come from manufacturers such as Ford and GM, so they're fairly new vehicles to work on; people also donate them to the Peninsula College Foundation and we do work for students, faculty and staff," Hansen explained.
"We won't take work away from any shop in town but we do have a program through the foundation for people recommended by an outside agency like First Step who don't have a means of paying. They apply through that program and we have a sliding fee for our labor rates," Hansen said.
Typically, the social service agency pays for the parts but historically the labor has been completely waived. The work has to coincide with with the subject that's being taught, however, according to Hansen.
Also through the foundation, there's a giveaway program at the Port Angeles, Sequim and Forks campuses in which a road ready vehicle is presented to a deserving student.
"Normally, there's no cost except for transferring and licensing. We gave away a lift van to a Forks student and we're ready to give away another vehicle," Hansen said. "Since 2005, we've given away 25. We safety check them and the student is responsible for the maintenance."
Modern mechanics
"Our students are well-versed into the electronics of every vehicle and learn to use factory and generic scan tools and scopes, which provides real time electrical information," Hansen said. "The scan unit plugs into the car and accesses the car's computers — some have 25. We've also been bringing in advanced vehicle technology such as hybrids, electric, fuel cells, and gaseous fuels such as propane and natural gas."
The technology of automotive repair is becoming more and more complex so Hansen and the other instructors make sure students have lots of exposure to today's highly computerized vehicles. 
"There's a nationwide shortage of technicians because there's a high demand. Last week I read there are 650,000 openings in the automotive industry and why that's so is the fact that there are a lot more cars and they're way more complicated," Hansen said. "When I started teaching in 2001, there were more changes from 1990-2000 than in the first 100 years of auto repair and it's probably changed that much more since 2010. Everything is electronically driven — there's so much technology — and you're not finding as many in the field. You can't just grab anybody off the street — there are huge skill sets now — and you have to understand how vehicles vary from model to model."
Locally, Hansen said dealerships always are looking for certified technicians but that the independent shops generally are fully staffed. 
Students in the Automotive Technology program graduate after two years with two degrees: an Associate of Applied Science degree and an Associate of Applied Science Transfer degree so they can pursue their education at a four-year college or university.