The second annual symposium for the presentation of Peninsula College Honors Program Capstone Projects will take place Friday, June 9, from 1:30 pm to 4:00 pm in Keegan Hall, room M-125. Students will present their original capstone research with a reception following the presentations.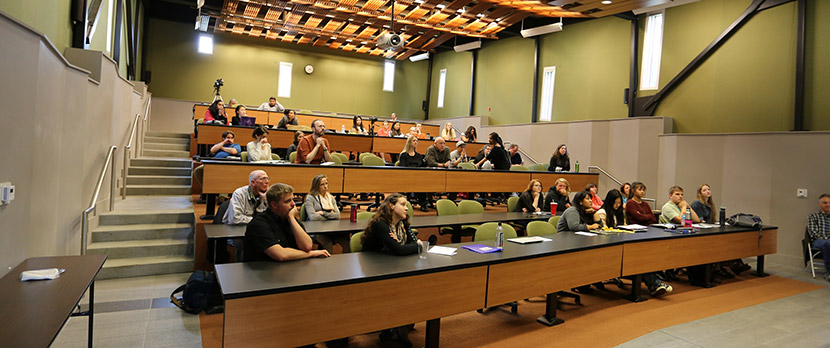 The Peninsula College Honors Program is a unique educational program for highly motivated students who seek to be engaged in an intensive learning process. A key component of the Honors Program is a culminating capstone project. Honors students work independently on their capstone projects throughout the second year of the program, guided by faculty mentors. Capstone projects may involve original research, service learning, artistic expressions, international experiences, or some combination. The symposium is an opportunity for students to share their scholarship with the broader community. It is also an excellent opportunity for students interested in pursuing Honors at Peninsula College to learn about the kinds of capstone projects being completed, and to talk with students finishing their Honors Degree.  
The Honors students are Lisa Tu Hoang, whose project is titled "An analysis of increasing freshwater scarcity in the Lower Mekong Delta, Vietnam"; Hoi Kiu Chan, who is also known as Hannah, whose project is titled "The effects that apparel marketing has on college-aged females' sense of body image";  Supacha Denprasertsuk, also known as Ashley, who has completed a study of "The Health Effects of Water Fluoridation: an Examination of the Scientific Literature";  Ka King Martin Lin, whose project is titled "Surrealism and Nightmares in 20th Century Spanish Art"; Forrest Maynock, whose project is "South Park Vs. Celebrity: Combating the Marketing, Obsession, and 'Moral High Ground' Behind Hollywood Culture"; Sierra Renée Saxe, whose project is "Our Latin Roots: The Formative Role of Latin in the Establishment of Old English"; and Hodge P. Wasson, who completed a study titled "Alcohol and Drug Addiction Among the Northwest Native Americans, from a Historical-Cultural Perspective, with Implications for Future Treatment Strategies."
Join us to be inspired by these individuals and their excellent work in completing the Honors Program at Peninsula College. A reception will follow the presentations.
This event is free and open to the public. Download the program.
For more information, please contact Dr. Dan Underwood at dunderwood@pencol.edu or (360) 417-6252.