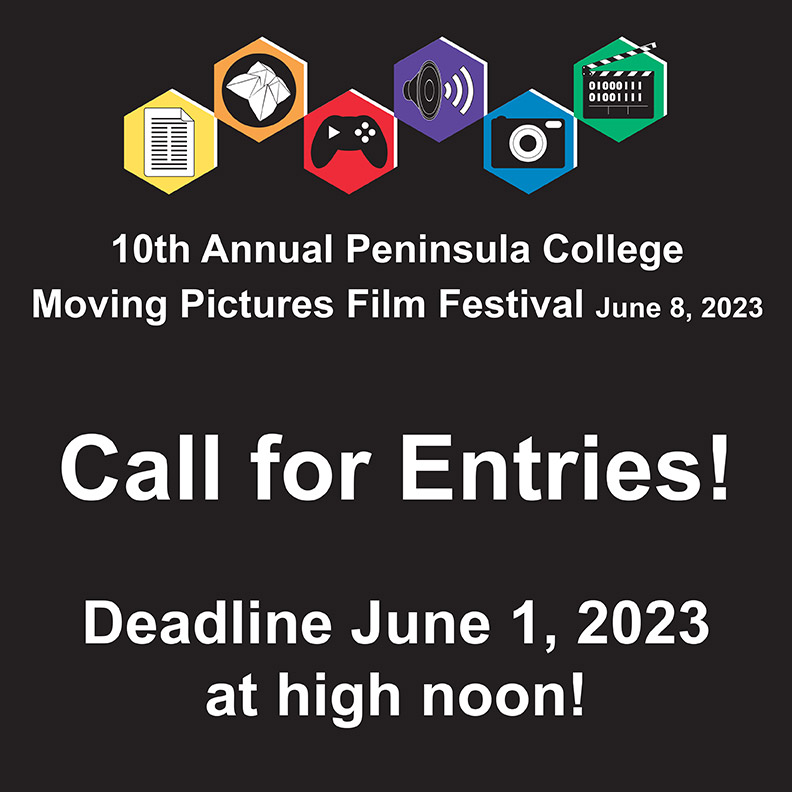 Tenth Annual Peninsula College Moving Pictures Festival Film Submission Deadline is Thursday, June 1, 2023 at Noon! 
Entries are open to current and former Peninsula College students. Entries need to be available as a high-quality video on YouTube for submission and less than 11 minutes in length. Animations, Slide Presentations, and Films saved in video format are welcome. Works can be student work or productions outside of coursework. 
Email your YouTube URL to Renne Emiko Brock, the Peninsula College Digital Video Professor, at rbrock@pencol.edu with your name, years attending PC, title of your film or animation, length of media, and year produced. 
The Moving Pictures Film Festival has two showings on Thursday, June 8 at 2:00 PM and 5:30 PM on campus in the Maier Performance Hall and online via Zoom. 
Selection process: Videos are reviewed by Peninsula College Students who have earned their Short-Term Certificate in Digital Video and instructor, Renne Emiko Brock. Selections and curation of the entries is made and video files are edited together for the Tenth Annual Moving Pictures Film Festival on June 8, 2023.
Questions: email Renne at rbrock@pencol.edu or call 360-417-6249
Thank you!
Renne Emiko Brock
#PenColMedia