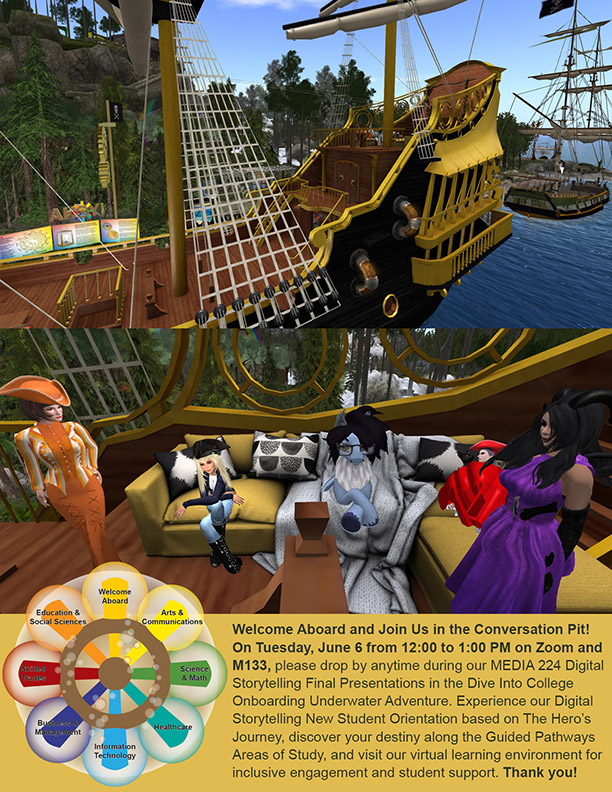 Welcome Aboard and Join Us in the Conversation Pit!
On Tuesday, June 6 from 12:00 to 1:00 PM on Zoom and M133, please drop by anytime during our MEDIA 224 Digital Storytelling Final Presentations in the Dive Into College Onboarding Underwater Adventure. 
Experience our Digital Storytelling New Student Orientation based on The Hero's Journey, discover your destiny along the Guided Pathways Areas of Study, and visit our virtual learning environment for inclusive engagement and student support. 
The Superhero's Journey New Student Orientation and Guided Pathways Digital Storytelling and 3D Design Interactive Project is an ongoing, persistent engagement experience to inform and inspire new students to attend Peninsula College. Since 2015, the continual goal of the project is to build an innovative marketing space and introduction to the college through an adventure filled with information, helpful resources, encouragement, and inclusive experiences. 
 
Please join us in Keegan Hall Room M133 or via our Zoom Invite:
Topic: Digital Storytelling Students' Presentation and Demonstration for the 2023 Student Arts Festival
Time: Tuesday, June 6, 2023 12:00 – 1:00 PM Pacific Time
Join Zoom Meeting Link:
https://pencol-edu.zoom.us/j/84988068800?pwd=K0pjWnBPd3U5UkpMVm5YQ2s5S3…
Meeting ID: 849 8806 8800
Passcode: 560892