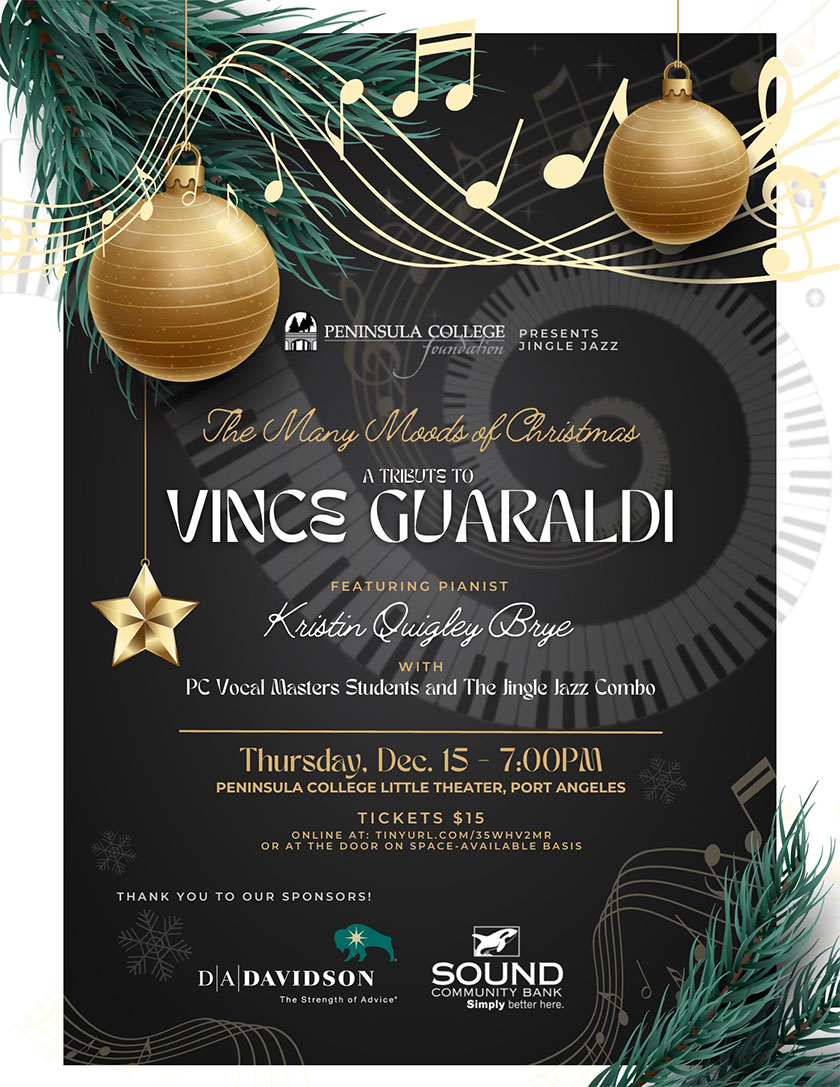 Event Location
PC Little Theater
The all-ages holiday favorite Jingle Jazz will return to Peninsula College's Little Theater at 7:00 pm on Thursday, December 15. Guest pianist Kristen Quigley Brye will play Vince Guaraldi favorites, along with PC Vocal Masters Series students, and Al Harris, Ted Enderle and Terry Smith, performing songs of the season. Themed "The Many Moods of Christmas," the concert will take guests on a journey of light-hearted joy, with tunes like Guaraldi's Linus and Lucy and holiday favorite Jingle Bell Rock, and of nostalgic reflection, with Joni Mitchell's River and Guaraldi's Christmas Time Is Near. 
The last Jingle Jazz concert was held in 2019, and Peninsula College Vocal Ensemble instructor Elaine Gardner-Morales is especially excited for its return. 
"This year's return to Jingle Jazz gives our students an opportunity to show off what they have learned during the pandemic," Gardner-Morales said. "For two years students have been learning from special Zoom workshops presented by world class adjudicators. With the support of the PC Foundation students have taken workshops from Angela Kelman of Canada, Michele Weir at UCLA, Liz Johnson of Nashville, Jenna Monroe of England, and Greta Matassa of Seattle to name a few. Their progress has been obvious and remarkable in so many ways."
Ensemble members include Wendy Bradbury, Annie Carver, Robbin Eaves, Sophia Iliakis-Doherty, Joyclin Grier, Evelyn Leigh, Bee Smith, and Tess Teel.
"Walking into the theater on event night is magical, and the stage is always very festive," notes Getta Workman, executive director for Peninsula College Foundation. "This year we'll have lighted Charlie Brown, Snoopy, Lucy and Schroeder lawn decorations on stage to give away at the end of the show to a lucky audience member."
Peninsula College Foundation will present the concert, with support from the Olympus Group of D.A. Davidson and Sound Community Bank. 
"This is a benefit for the Vocal Jazz Program and students at Peninsula College, and we could not provide this great event and student performance opportunity without our sponsors." said Workman.
Tickets are $15 and are available at tinyurl.com/35WHV2MR or at the door on a space-available basis.
For information about Peninsula College Foundation, call (360) 417-6400 or visit pencol.edu/foundation.
For more information on Peninsula College's Vocal Ensemble winter class, email Elaine Gardner-Morales at egardner@pencol.edu.
Please join us as we celebrate the season!