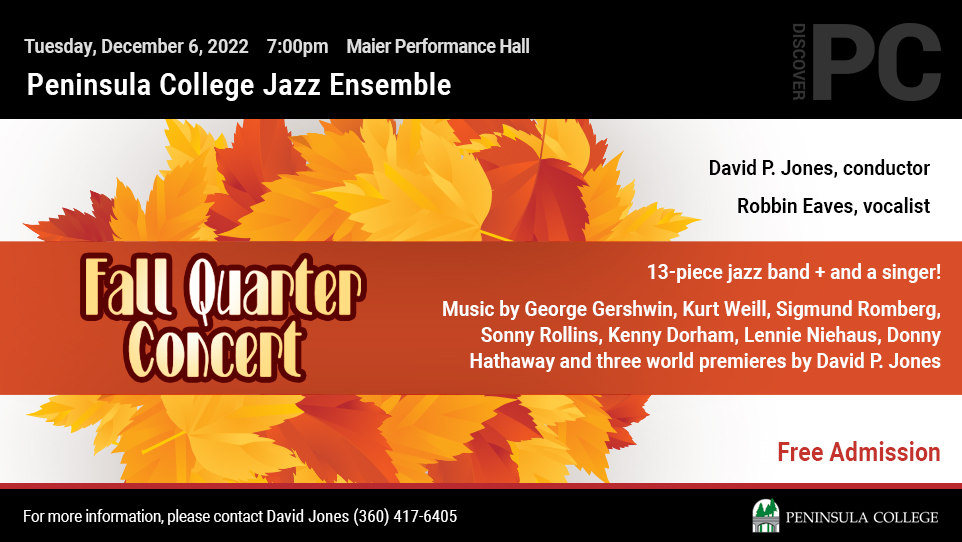 Event Location
Maier Performance Hall
Peninsula College Jazz Ensemble's free "Fall Quarter Concert" will take place on Tuesday, December 6 at 7:00 pm in Maier Performance Hall on the Port Angeles campus under the direction of Dr. David P. Jones. 
The concert will feature Robbin Eaves on vocals and a 13-piece jazz band. The band will perform music by George Gershwin, Sigmund Romberg, Sonny Rollins, Kenny Dorham, Lennie Niehaus, Bart Howard, Les Sabina and three world premieres by David P. Jones.
Eaves, accompanied by a smaller version of the band, will sing "September Song," "Everybody Loves My Baby," and the R&B classic, "This Christmas."
As usual, the performers in this band represent some of the very best jazz that the North Olympic Peninsula has to offer.  From Port Angeles are Kevin MacCartney (tenor sax), Dick "Doc" Thorson (tenor sax), Jim Bradbury (trumpet), Marge Rosen (drum set),  and David Jones (keyboards/director).  Sequim provides Jayne Morrison (alto sax), Anton Hilmisson (alto sax), Dan James (trumpet), Jeff Dingle (trombone), Tom Hartig (trombone) and Kendall Melton (bass) while John Adams (alto sax + alto clarinet + bass clarinet) hails from Port Townsend and Dan Powell (trombone) makes the journey from Marrowstone Island.  
Vaccinations, masking, and social distancing are not required to attend the performance, but the college supports efforts to keep employees and guests safe. Thank you for doing your part to keep our campus and community healthy.
For more information contact Dr. Jones at (360) 417-6405 or djones@pencol.edu.