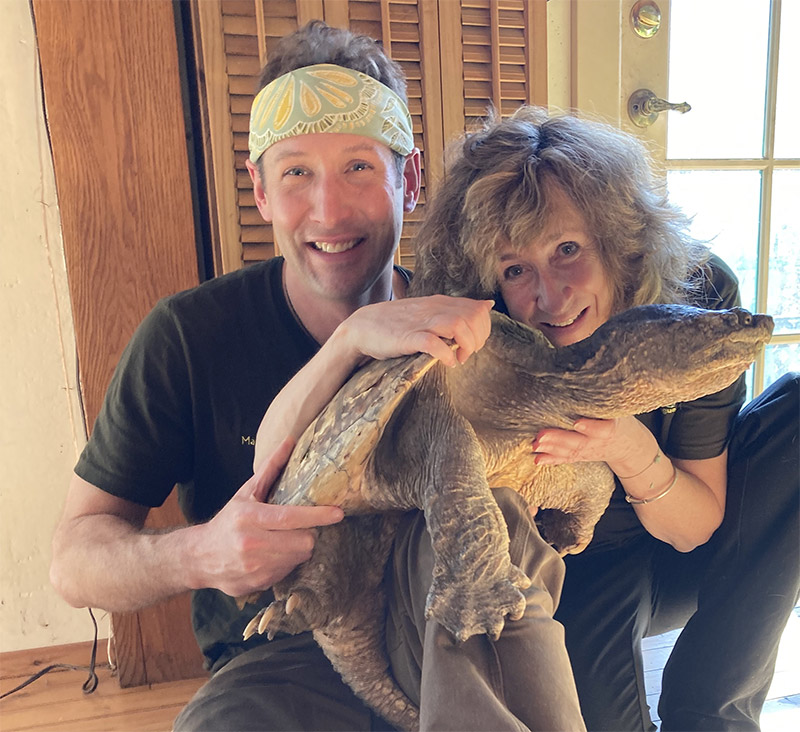 Event Location
PC Little Theater, Zoom
Montgomery has written more than 30 books for adults and children and was a 2015 finalist for the National Book Award for nonfiction with her New York Times bestseller "The Soul of an Octopus, A Surprising Exploration Into the Wonder of Consciousness."   
Montgomery will be on the campus May 16-18 and will share her wilderness adventures at a Studium Generale presentation Thursday May 18 at 12:35 p.m. The event is free and open to the public.
Her newest work, "The Book of Turtles" is illustrated by Matt Patterson and scheduled to be released the first week of May—just days before her arrival in Port Angeles. Montgomery announced this week that Patterson will join her during her on-campus residency. 
"Spell of the Tiger, The Man-Eaters of Sundarbans," one of Montgomery's earlier works, was adapted into a National Geographic television documentary. A few of her many awards include The 2010 Children's Book Guild Nonfiction Award and the Henry Bergh Award for Nonfiction, bestowed by the American Society for the Prevention of Cruelty to Animals ASPCA for Humane Education.
"We are on the cusp of either destroying this sweet, green Earth, or revolutionizing the way we understand the rest of animate creation," Montgomery said in a profile at www.symontgomery.com . "It's an important time to be writing about the connections we share with our fellow creatures. It's a great time to be alive."
More details about Montgomery's visit will be shared closer to the event.
Join the Zoom meeting at https://pencol-edu.zoom.us/j/83024542567, Meeting ID: 830 2454 2567.
For more information contact Rich Riski at RRiski@pencol.edu.
PHOTO: "Fire Chief," the 42-pound wild snapping turtle, is pictured with Illustrator Matt Patterson and PC Writer in Residence Sy Montgomery.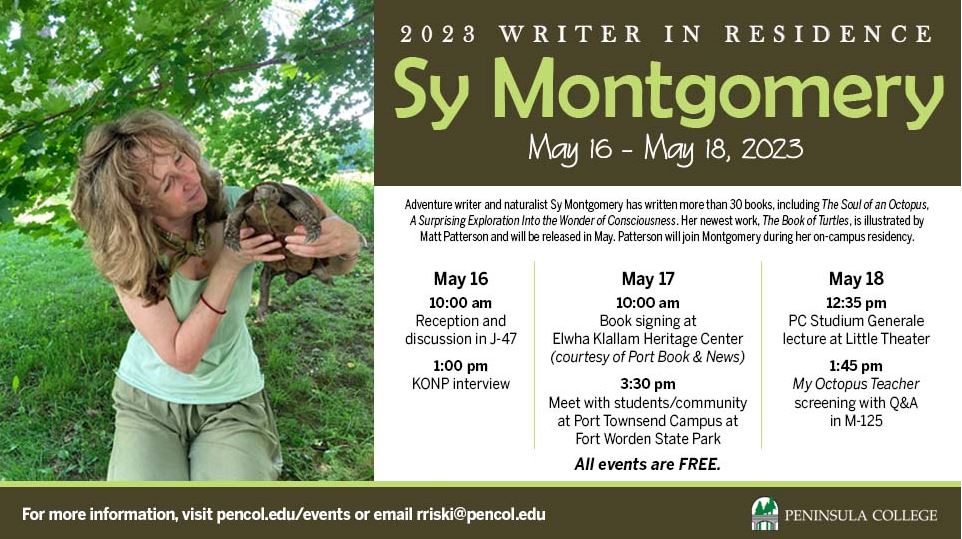 Adventure writer and naturalist Sy Montgomery will serve as the Peninsula College Writer in Residence for Spring 2023.