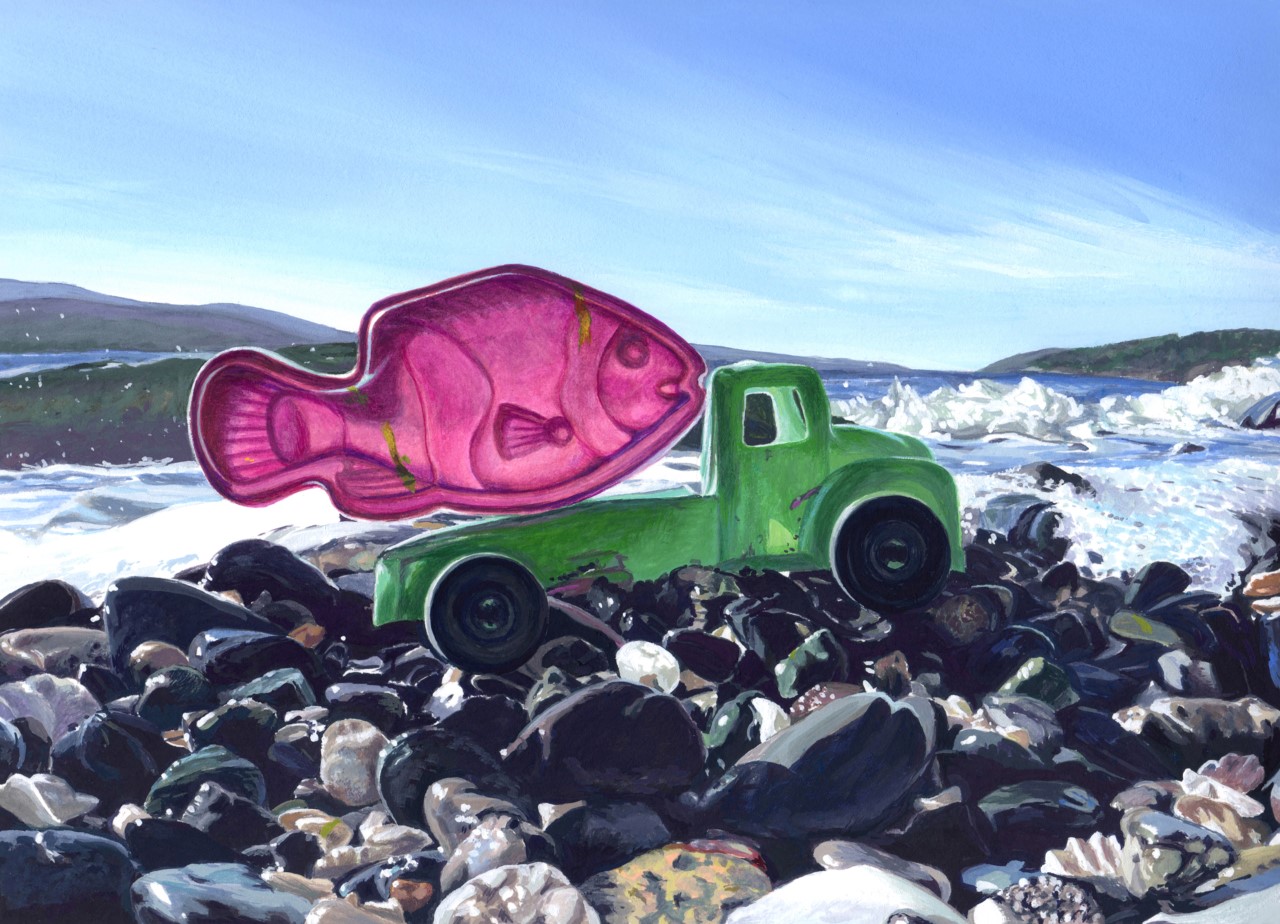 Event Location
PC Little Theater, Zoom
A solo exhibition by artist Karen Hackenberg entitled "EcoArt" will be featured in Peninsula College's PUB Gallery of Art January 18 – March 16. She will also be the featured speaker at the college's March 2 Studium Generale presentation.
Hackenberg received her BFA in painting from Rhode Island School of Design, moved west to live for a decade and a half in San Francisco, and now lives and works near Port Townsend, WA. 
The tenuous boundary between living nature and human encroachment is the primary unifying theme in Hackenberg's artwork. 
In her Divining Line series of large-scale diptych portraits she pairs people with animals and provides a side-by-side visual comparison of non-human and human animals. 
"Placing creatures of differing sizes together in the landscape as if they are the same physical size challenges historical western methods of three-dimensional perspective, as well as condescending western attitudes about animals," Hackenberg said. "The resulting paintings are ambiguous while subtly nudging assumptions about hierarchy and power in our relationships with nature."
Her beach plastic paintings take a light-hearted yet subversive approach to the serious subject of ocean degradation and present a tongue-in-cheek taxonomy of imaginary post-consumer sea creatures. Working traditionally with oil, gouache, and pencil, she meticulously crafts images of beach trash, aiming to create a provocative collision of form and idea. This work is influenced by Pop Art of the 1960s - Claes Oldenburg's monumental everyday objects, as well as Ed Ruscha's paintings combining marketing graphics with images of nature. 
In Hackenberg's new Sea Tangle Suite of drawings, she expands on environmental themes by working from direct observation on the beach, drawing freehand directly onto the screen of an iPad Pro with a digital Apple Pencil, using a technique similar to that of David Hockney in his iPad landscape drawings. In both cases, the process of creating these images resembles that of traditional printmaker's hand- pulled prints, where there is no other original besides the print. 
Her green sensibility has earned a place in private and public collections, including the New York State Museum, NY, the Portland Art Museum, OR, the Tacoma Art Museum, WA, the Washington State Art Collection, Bainbridge Island Museum of Art, WA, and the Hallie Ford Museum of Art, OR. 
Her painting Amphorae ca. 2010 was reproduced and installed as an "I AM WATER" billboard in Greenpoint, Brooklyn along a major thoroughfare leading to Queens, NY this past summer. She was one of six artists selected to participate in this important project from 150 artists submitting over 450 images.
Hackenberg has been awarded a Northwest Perspectives solo exhibition at the Tacoma Art Museum scheduled for 2024. Her additional museum exhibitions include Northwest Art Now at the Tacoma Art Museum; a solo exhibition at Bainbridge Island Museum of Art; a traveling museum show, Environmental Impact; Neo-Naturalists at Museum of Northwest Art; Stilleven: Contemporary Still Life at Hallie Ford Museum of Art; and Beneath the Surface: Rediscovering a World Worth Conserving at A.A.A.S. headquarters, Washington DC. 
Her work is represented by Patricia Rovzar Gallery, Seattle, and has been featured in LoDown Magazine, Berlin Germany, and BlackBook Magazine, Brooklyn, NY. 
The PUB Gallery of Art is open Monday – Friday from 8:00 a.m.- 5:00 pm. The March 2 Studium Generale presentation is free and open to the public and will begin at 12:35 pm.
Join Zoom meeting at https://pencol-edu.zoom.us/j/89779530051, Meeting ID: 897 7953 0051.