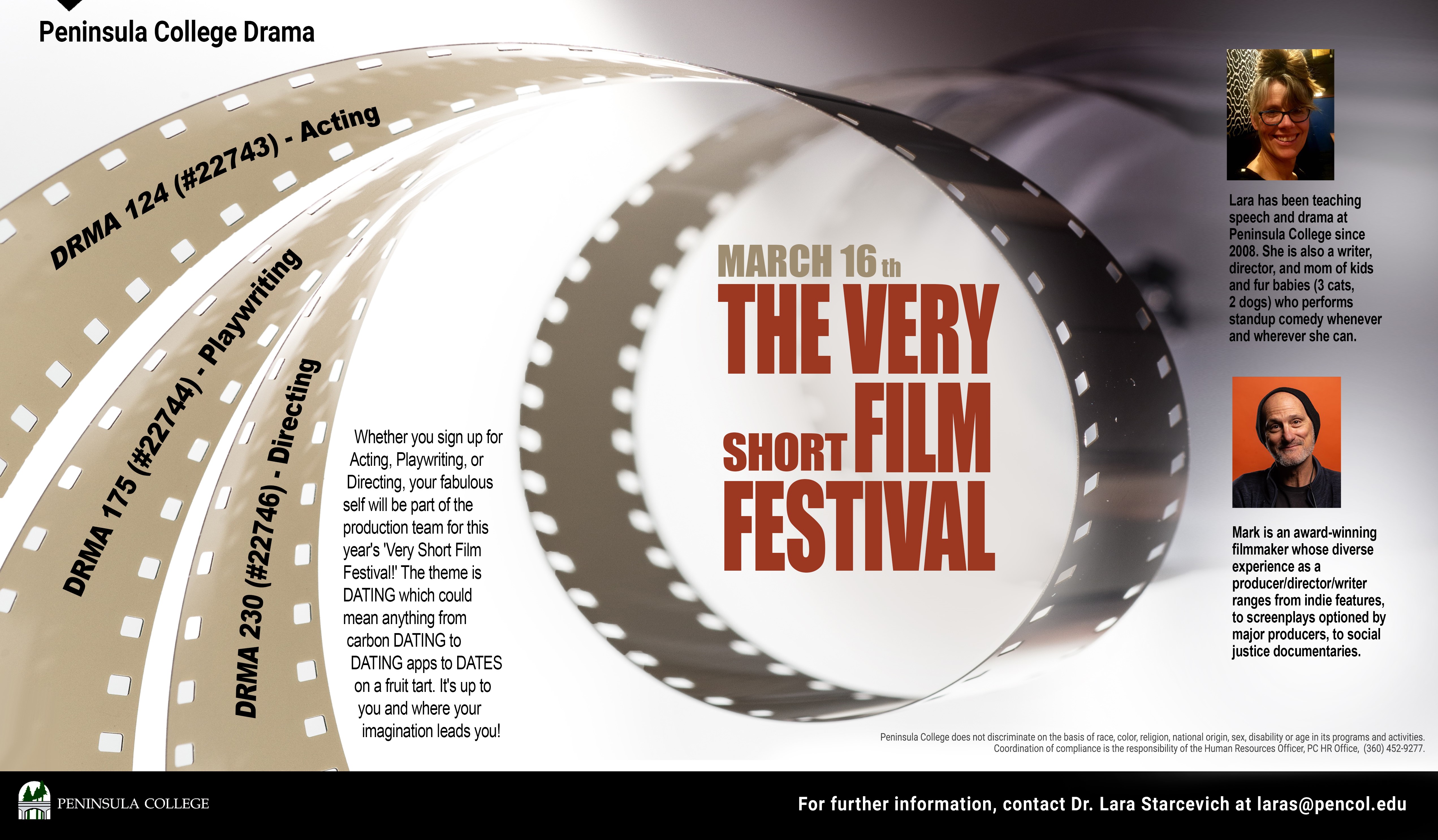 Event Location
PC Little Theater
In January students and members of the public were invited to submit a short film – from one to 10 minutes- on the theme of "Dating" for this year's Very Short Film Festival slated for March 16 at Peninsula College. "Dating" is open to interpretation and may include anything from carbon dating to edible dates (those sticky, sweet things), to humans dating humans. Take your pick! 
Students from winter quarter's Drama 124 course acted as judges for this year's submissions. Dr. Lara Starcevich and veteran filmmaker Mark Schwartz co-taught the class that covered the fundamentals of screenwriting, acting and directing. In the production-centered environment, individuals created an original film for the festival. 
Starcevich has been teaching Speech and Drama at Peninsula College since 2008. She's a writer, actor, director, teacher, and mom of kids and fur babies (three cats, two dogs) for longer than she wants to admit. She also performs standup comedy at open mics whenever she can and has written a book with a very long title called the Diary of a Hippie, Single Mom who Vents on Social Media because it's Cheaper than Therapy. 
Schwartz is an award-winning filmmaker whose diverse experience as a producer, director, and writer ranges from indie feature films (selected for New Directors, Santa Barbara, Mill Valley Festivals), to screenplays optioned by major entertainment industry producers and studios, to social justice documentaries (selected for Sundance, Seattle, Vancouver, Toronto, London, Berlin, Chicago Festivals). 
Contact Dr. Starcevich at laras@pencol.edu with questions or for more information.