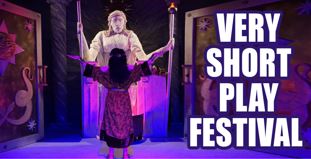 Event Location
Little Theater
Students in Peninsula College's Intro to Theatre class are excited to share their original 10-minute-or-less plays with the public when the "Very Short Play Festival" premiers on December 2. Show time is 12:30 pm in PC's Little Theater. The event is free to PC students, with a suggested donation of $10 for the general public. All proceeds fund the PC Scholarship for Drama, awarded each year to one qualifying college thespian. 
Students in Drama 101 became 'content creators' from start to finish this quarter as they shared the germ of an idea and watched it grow and develop in collaboration with others. Some have chosen to write a traditional script while others opted for a devised script, a system that incorporates improvisation into the final product which is then refined in rehearsal by the whole cast. 
The premise for each play is totally unique. Highlights include scenes about soldiers whose courage is put to the test, a thief invited to a dinner party, an imaginary conversation between three inanimate objects, two very different perspectives of the same date night, and a profound conversation with God about our own mortality. The plotline of each play is completely unpredictable and thus all the more satisfying!
Both traditional and devised scenes in the Very Short Play Festival are written, co-created, performed, and designed by the whole production team which includes Simon Close, Danute Duffy, Savannah Rose Hickman, Graham Nott, Eliza Pettigrew, Levi Pulsipher, Carolynn Pype, Malachi Rediger, and Dean Rynearson. 
For more information, email Dr. Lara Starcevich at laras@pencol.edu.