A Canvas of a Different Type
Amazing things happen to metal when it is put in the hands of an artist and the artist also happens to be a welder. At Peninsula College, three welding students are channeling their technical and creative talents into breathtaking pieces of art and redefining welding as a career. Meet Mike Tade, Rachel Loomis and Eulalia Engel.
---
Mike Tade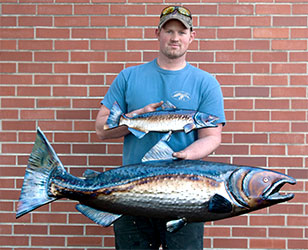 Although still a first-year student in the Peninsula College Welding Program, Mike Tade of Sequim is already making a name for himself on the peninsula and beyond as an artist. Chances are you've seen his work if you have been to 7 Cedars Casino, Dockside Grill, Joyful Noise, Jose's Famous Salsa, Hardy's Market and Batson Enterprises in Sequim or the Heatherton Gallery in the Landing Mall in Port Angeles―beautiful renderings in burnished metal of leaping salmon, trout and other Pacific Northwest wildlife that capture the spirit of our landscape and the wildlife he's honoring with his work.
Mike recently started his own company, Burnishing Creativity, and hopes to make a living doing his metal sculptures, welding repairs and custom metal art, from signs to logos, when he finishes his Peninsula College AAS degree in welding. He's already got a good start on realizing his goal: In just a few short months, he's sold more than 50 pieces and is working on others that he plans to donate to the Sequim Senior Center for a silent auction they are having at the end of May.  
Although he is quickly becoming known for his evocative creations of salmon and trout, Mike says he also does a lot of other sculptures, ranging from music notes to birds, animals, landscapes and other sea life. "Salmon and trout are a big thing here in the Northwest so I thought I would make something that was tied to the area we live in," he says. 
Mike has always enjoyed working with his hands and with metal, so his decision to enroll in the Welding Program at Peninsula College was an easy one for him.  The art followed.  "I like that you can make something and choose to add to it or take from it so easily, and there is no waiting for the glue to dry. It also provides a way for me to take ideas from my mind and turn them into physical objects."
Although Mike had a lot of experience in drawing and painting, he did not sculpt metal until December 2013. "I wanted to surprise my wife with a sculpture that she had told me about, so I made her a fish she wanted, a salmon made out of aluminum," he says. And because he is a published artist in other mediums, Mike figured that when it came to metal he could teach himself how to shape and form it, and he has!
---
Rachael Loomis
"Everything I do becomes an art form after some practice and a long learning curve," says Rachel Loomis of Port Angeles when she talks about her welding. A nurse for 26 years, Rachael is now in the first year of her AAS degree. 
She took her first welding course during the summer of 2013. "I fell into a summer school offering at Peninsula College offered by Eoin Doherty and fell in love with welding," she says. It was then that she created what she calls her first "piece"―a free-hand "hand" that was plasma cut from 16 gauge sheet steel. "Eoin taught me how not to slice my digits off, and I enjoyed using the plasma cutter immensely. It is my favorite shop tool. The hand is on my locker to this day."
Although not a trained artist, Rachael is no stranger to the arts. She sews, quilts, does stained glass, draws, paints, beads, and works with wood. To her, metal is another learning opportunity, and the welding shop at Peninsula College is the perfect environment. "The atmosphere is very conducive to 'dabbling' in metal in the shop. Forging, fixing, torching, plasma cutting, sand blasting, annealing, casting, machining, and welding all occur alongside each other," Rachael says. And perhaps best of all, the students help each other, both with private and shop projects. "It isn't hard to be creative in a supportive environment," she adds.
One of her first works was an owl made of steel, but Rachael says she has recently switched to copper, or "repose." It is an old art, and one she likes. "Copper is truly the most beautiful of metals, with some interesting qualities."  
A Kite is made of 22 gauge steel and was made in the same manner as the owl. "Learning to burnish it, to colour it with flame was the most interesting point," Rachel says. "Colour bleeds across a known spectrum, and holding the heat at the right temp to disallow it to turn past the colour you are trying to obtain takes practice. It is done with flame, so temperature regulation isn't easy." 
Rachael also works in glass. She now has seven in varying stages of completion, ranging in size from 8 x 11 inches to 22 x 24 inches. The works are an extension of her stained glass background, but focus on a metal overlay against a single sheet of glass. "The metal overlay is plasma cut and annealed to flatness and mounted," she says. 
Another piece, an alien face with glass eyes, hangs in the welding instruction office. It was created as a gift for instructors Eoin Doherty and Jeremy O'Dell for passing on their knowledge so freely. After all, Rachael notes, "A class of 64, ranging in age from 15 to 83, can be quite a handful!"
---
Eulalia Engel
Where others see only scrap metal, Eulalia Engel sees flying dragons and other mythical creatures. To this first-year welding student who now lives in Port Angeles, welding is "an overlooked expressive medium."
Although Eulalia has always been interested in art, she says she hadn't really thought much about combining art and welding until she got in the welding shop and saw all the possibilities. When someone commissioned the welding students to create a dragon, she was ready for the challenge.
With no formal training in art, Eulalia says she just started working. "Metal has unique qualities that are resurrected when it has been heated and forged. It was these qualities that breathed life into this piece. I often felt when working on the fire pit that I was the tool the metal was using and not the other way around."  
Now that the dragon project is behind her, Eulalia is looking toward a future that will continue to combine welding and art. "Welding has helped me become better at everything," she says. "It makes the brain click in a different way. I've developed better hand-and-eye coordination, and it has even helped me in my music as I listen to the frequency and timing of the machines in the shop (she is a member of the local band, S.S.T.).
One of her dreams is to start an art co-op in Port Angeles. "It's the perfect spot for being an artist," she says. This summer, she and some of her welding classmates are hoping to find some space to rent so they can continue to work on welded art projects. "Welding is often considered just a blue collar trade, but I see it as a powerful tool in both creating art and creating sustainability because fabrication skills can be used to create anything one wants or needs! With all the talent and creativity Peninsula College has in its welding program, the possibilities are endless!"
Eulalia has come a long way from the young woman who arrived in Port Angeles a year ago with just a backpack, her dog and her banjo. Now she has an apartment, is working on her degree, and discovering a whole new side of herself, things she wouldn't be doing without Peninsula College. In fact, she now plans on enrolling in Peninsula College's BAS degree program once she has her AAS degree so she will be prepared to start her own business when she graduates.
---
Learn more about the Welding program at Peninsula College
www.pencol.edu/proftech/welding
Contact the Program Coordinator at:
Jeramie O'Dell
(360) 417-6541
jodell@pencol.edu
You'll be glad you did.