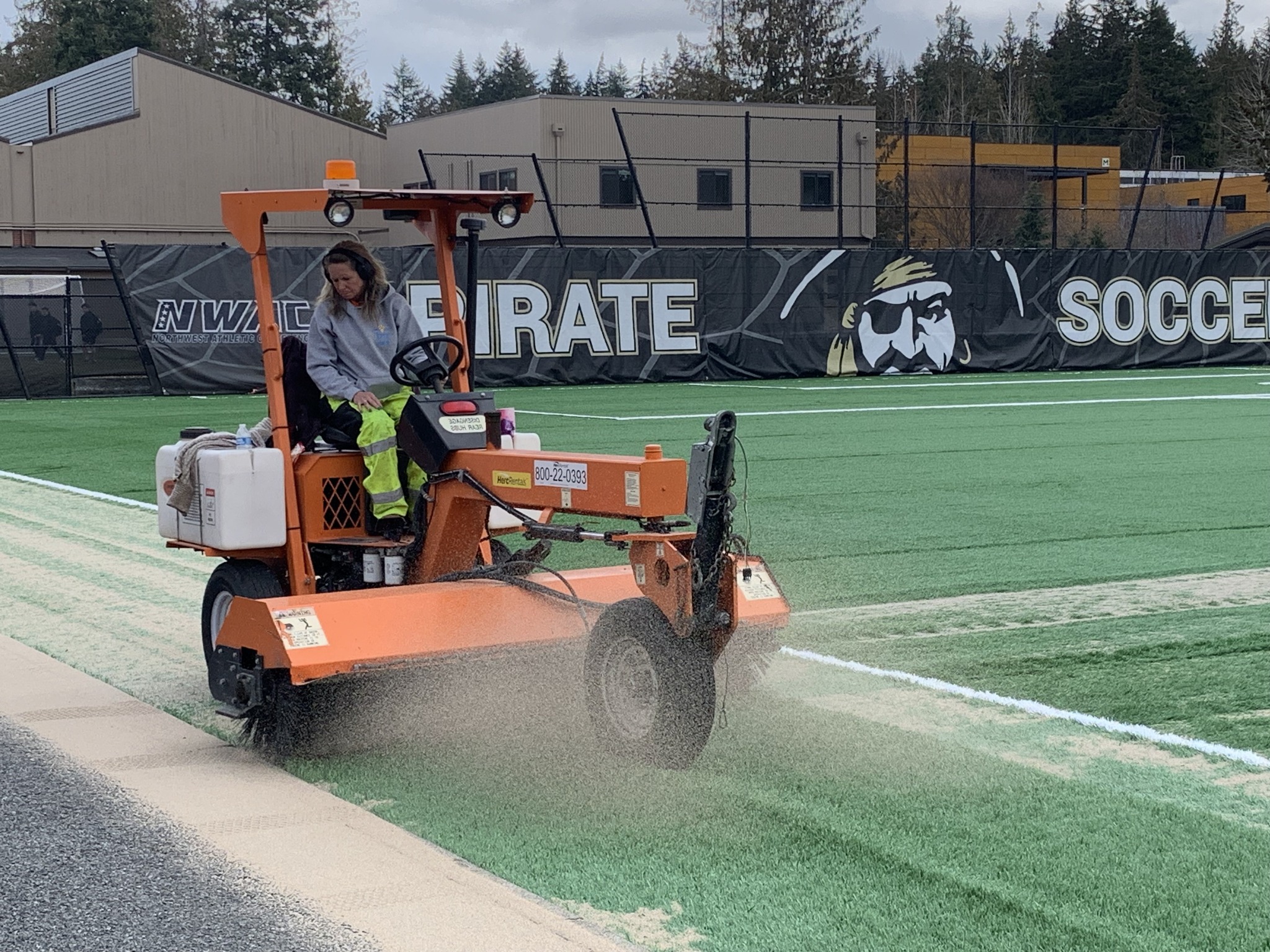 Pirate soccer will celebrate a new high-quality field turf surface on Wally Sigmar Field at Peninsula College with a ribbon cutting ceremony at 1:30 pm on Wednesday, March 22. All are welcome.
   
The new surface, installed this winter by FieldTurf Inc., will establish Peninsula College as the home of the highest quality college soccer field anywhere in the Northwest.
"The surface we purchased is the same soccer pitch going into the Sounders' new training facility in Renton and the same pitch the Portland Timbers play on at Providence Park," said Rick Ross, associate dean of athletics and student life. "FieldTurf installs fields at Division I colleges, MSL stadiums and NFL stadiums all over the country and this is their highest quality soccer surface. We are very excited to continue to put our student athletes in the best possible position to have success."
Wally Sigmar Field is also the home to high school and youth soccer training and matches throughout the year.
The $770,000 project was funded by a student fee, replacing the original turf, installed in 2010, that had come to the end of its life span. 
"Our student leaders recognized the importance of maintaining high-quality facilities for the benefit of future student athletes and the North Olympic Peninsula soccer community," Ross said, adding that the State of Washington no longer funds athletic facility improvements. "We were fortunate to have some community boosters help us with huge donations to replace our gym floor two years ago, but we didn't feel we could go back to them for this project. Thankfully the students voted themselves a fee to lock in a field surface we're expecting to last through 2040."
The student fee also funded the operation of the college's fitness center and for improvements to the Pirate Union Building.
Peninsula will host three home exhibition soccer matches this spring. The Pirate men will play the University of Washington at 10:00 am on April 1 and Clark College at noon on May 6. The PC women host St. Martin's University at 1:00 pm on April 22.