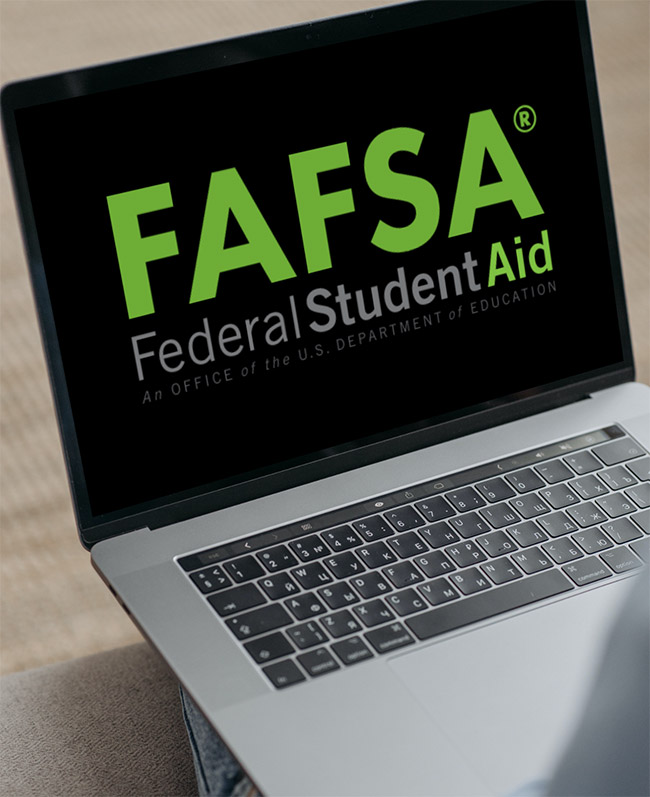 High school seniors can now receive free one-on-one help when applying for student aid. Three Peninsula College positions are dedicated to assisting students with the important task of submitting their Free Application for Federal Student Aid (FAFSA), which determines the amount of money awarded to students to cover the cost of college.
In 2020, Washington State ranked 49th of 51 states, including Washington DC, for FAFSA completions. Lawmakers have sought to rectify this ranking by passing a bill in early 2022 to increase FAFSA applications in the two lowest performing educational service districts in Peninsula College's service area.
ESD 114 is one of the two districts with minimal completion rates in the state. This area includes Quillayute Valley, Cape Flattery, Crescent, Port Angeles, Sequim, Port Townsend, Chimacum, Quilcene, Kitsap, Bremerton, and North Mason school districts. House Bill 1835 was passed in response to a rapidly declining FAFSA application rate. 
The bill permits funding to employ one financial aid outreach specialist for every 600 high school seniors. With this money, PC was able to hire three financial aid outreach specialists positions. Services provided by the specialists include one-on-one consultations, informational seminars, local events, on-campus support, and helping to guide applicants through the entire process. These professionals are available for around three to five hours, once a week, on the campus of their assigned high schools. Interested students and parents may also set up appointments directly with their designated specialist.
The new financial aid outreach specialists are Abby Rand and Steven C. Luther. They act as liaisons between their assigned schools and Peninsula College. 
Rand has taken on Sequim High School (including Dungeness Virtual School and Olympic Peninsula Academy) , Port Townsend High School, Quilcene High School, and OCEAN School. 
Luther has been assigned to Chimacum Junior/Senior High School, Chimacum PI Program, Crescent School, Port Angeles High School, Lincoln High School, and the online Seaview Academy. 
The two are sharing coverage of Clallam Bay High School, Neah Bay High School, and Forks High School, as well as the online Insight School of Washington while the college in the process of hiring the third specialist.
The employees joined the college in November of 2022 and seek to bridge the gap for FAFSA submissions for Washington State. 
"We're really excited to be part of this pilot program," PC Financial Aid Director Josh Holloway said. "With these positions, we'll be better able to help high school seniors and their families know about their funding options for college and help them with the application process." 
Help is also available for the Washington Application for State Financial Aid, better known as WASFA, for those that do not qualify to apply for the FAFSA.
This initiative has also funded student financial aid navigation assistance for those who are not high school seniors. Adults looking for support traversing the financial aid process for career training or college, can connect with United Way of Clallam County's Student Financial Aid Liaison, Kennedy Cameron. In partnership with Peninsula College and the North Olympic Library System, they offer virtual and in person drop-ins, one-on-one appointments, as well as hosting quarterly community workshops. Upcoming events can be found on the United Way website. In this position, Cameron hopes to help community members find ways to access higher education without breaking the bank. 
"I often tell students that you won't know what you're eligible for if you don't throw your hat in the ring," Holloway said. "The first step to figuring out how much aid students can receive is to fill out their financial aid application.  Luther and Abby are great at helping breakdown the process and explaining how the entire process works. Our goal is to get students the most financial aid funds they're eligible for to help them pay for college."
Multiple sources of funding are available through the FAFSA. Federal aid, such as the Pell Grant, has risen to a maximum reward of $7,395 for the 2023-2024 school year. Many state grants are also available, including the Washington College Grant. Students may qualify even if they don't think they will . According to the Washington Student Achievement Council, "an eligible student from a family of four with income of $64,500 or less per year would get a full award." Even a student from a family of four making up to $107,000 may be eligible for some financial support, but potential recipients must apply to find out. Students interested in obtaining FAFSA/WASFA application support are encouraged to contact their high school's counseling office or Peninsula College directly. 
Peninsula College Contact Information
Website: pencol.edu/financial-aid-office
Email: financialaid@pencol.edu
Phone: (360) 417-6390
United Way Contact Information
Website: www.unitedwayclallam.org/fafsa-wasfa
Email: collegeaccess@unitedwayclallam.org
Phone: (360) 457-3011