Peninsula College Interim Dean of Arts and Sciences and former English Professor, Dr. Janet Lucas, will take listeners on a cross-disciplinary road trip to critically explore compassion and empathy, focusing on the controversial and complex ways they affect the classroom and the media, in her multimedia Studium West lecture, "The Art and Science of Empathy". 
"Empathy is often assumed to be an unquestioned 'good' to strive for in college classrooms, with multicultural literary readings and service learning seen as sure fire ways to inspire students from the dominant culture to understand the Other," Lucas said.  "In the 90s and beyond, however, empathy and the (hopefully) resulting compassion have been questioned and even disparaged by cultural studies scholars, specifically in regard to the ability of empathy and compassion to promote social justice and political action." Conversely, Lucas added, a number of other scholars claim that popular culture inspires empathy and compassion globally to such a degree that it is leading us into a more peaceful world. 
Dr. Lucas started college as a returning adult student after a long career waiting tables. She earned her Bachelor's and Master's in English from Eastern Washington University (2003), and earned her Ph.D. in English from Indiana University of Pennsylvania (2011). Her dissertation Not Just a Feeling Anymore: Empathy and the Teaching of Writing was submitted for the James Berlin Memorial Outstanding Dissertation Award. In October 2007, the Two-Year College Association honored her with the Lisa Ede Award for Teaching Excellence.
 "Today, economists, sociologists, anthropologists, psychologists, philosophers, evolutionary biologists, medical professionals, and neuroscientists are exploring ourselves and our brains on compassion and empathy," Lucas said.  She will discuss the nuances of compassion and empathy to discover new ways to think about them in our classrooms and beyond.
Dr. Lucas is a scholar, poet, and essayist and taught in Guilin, China for a time. When not working, she enjoys writing, reading, cooking, music, and art. She taught English for many years at Peninsula College and recently became Interim Dean of Arts and Sciences at PC.
The event is free and open to the public.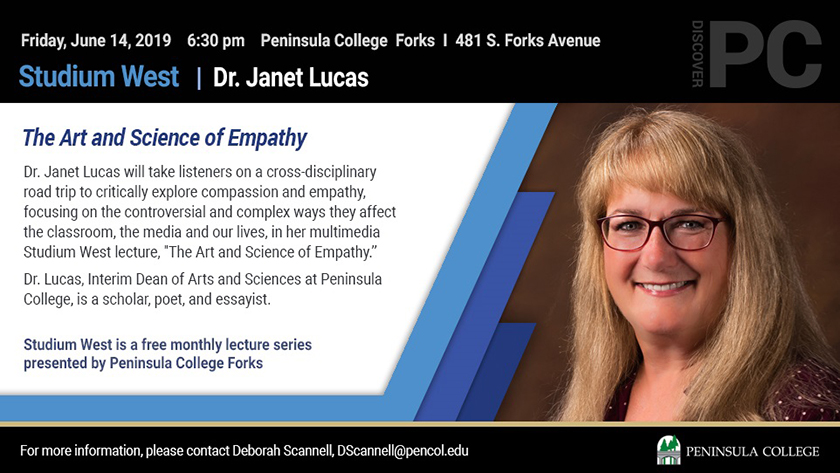 For more information please contact Deborah Scannell at dscannell@pencol.edu.