When we think of the legal arguments for equality, we tend to remember the most triumphant wins and the most devastating losses in the United States Supreme Court. The truth is that such moments are few and far between; more often, progress is slow, brought on by years of hard work, small victories, and compromise. 
In his new book, PRACTICAL EQUALITY: Forging Justice in a Divided Nation, American University's celebrated legal scholar Robert L. Tsai illustrates how arguments about principles that are sidebars to equality can reduce everyday suffering during tough times and lead to more convincing wins when political conditions improve. Tsai will give a public lecture and book signing at Peninsula College Port Townsend Learning Center, May 3 at 6:00 pm in Building 202 at Fort Worden. 
Though he was born in Taiwan, Tsai has always considered America his home. He spent his formative years in the Pacific Northwest, working in his parents' cafe in Port Townsend, and dreaming about the world beyond his small town.
In his book, Tsai looks at historically successful tools for achieving equality like the concept of fair play or free speech, and offers readers several workable solutions. He argues that we need to develop a complete arsenal of arguments to reduce inequality in everyday life. 
Among the topics covered in the book: President Trump's ban on Muslim travelers, felon disenfranchisement, oppressive measures against migrants, racist interrogation tactics and police brutality, bans on transgender troops and bathroom regulations that affect transgender people, racial segregation, the wartime internment of Japanese Americans, quality of life regulations to drive out the homeless, detention of suspected terrorists, and the use of capital punishment against racial minorities, children, and intellectually disabled people. 
During the May 3 event, Tsai will be joined for a public conversation about his book by Assistant Attorney General Ariel Speser, who works out of the Port Angeles Regional Services Division serving Jefferson and Clallam Counties, and serves in Jefferson and Clallam courts on a weekly basis.  Prior to serving as an AAG, Speser worked for eight years as a civil legal aid lawyer for the Northwest Justice Project, a nonprofit statewide legal aid firm representing low-income and vulnerable individuals and families.  As a civil legal aid lawyer, she handled a high volume litigation practice, focusing on consumer protection, access to healthcare, and representing victims of crime.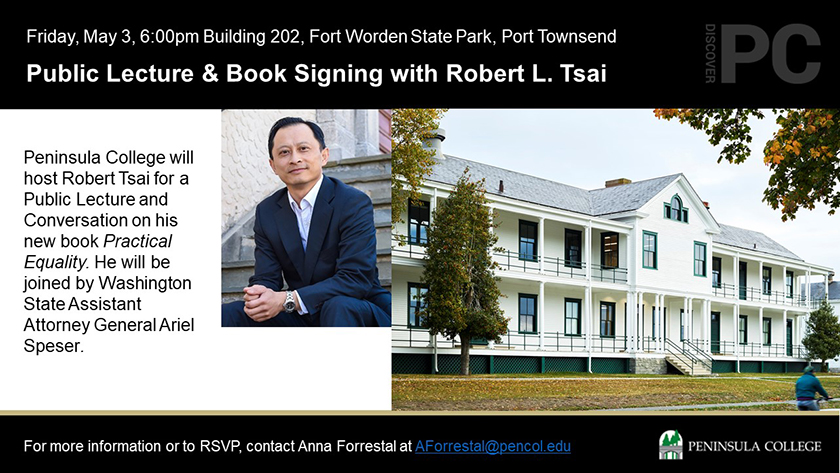 About the Author: Robert L. Tsai is professor of law at American University. He is the author, most recently, of America's Forgotten Constitutions and his essays have appeared in the Boston Globe, the Washington Post, Politico, the Los Angeles Review of Books, the Boston Review, and Slate. He lives with his family in Washington DC.
This event is free and open to the public.
For more information and to RSVP contact Anna Forrestal at aforrestal@pencol.edu.