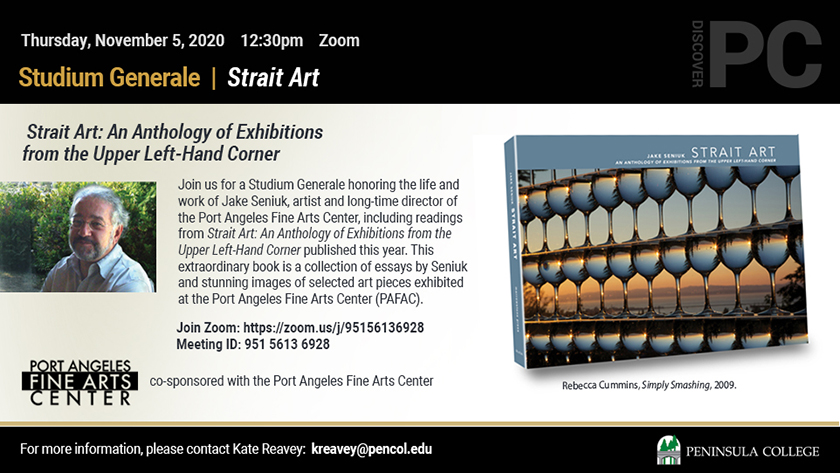 Studium Generale will celebrate the publication of Strait Art: An Anthology of Exhibitions from the Upper Left-Hand Corner, a book of essays by the late Jake Seniuk, artist and longtime director of the Port Angeles Fine Arts Center, and stunning images of the art and photography these essays engaged.
The book chronicles various media, including paintings, sculptures, photography, and mixed media. Among the artists featured are renowned painter Alfredo Arreguin, photographer Mary Peck, Chimacum artist Tom Jay, Peninsula College professor Michael Paul Miller, glass artist Dale Chihuly, and the late photographer Mary Randlett.  Strait Art is a 276 page recollection of the exhibits Seniuk curated, rich with the essays he wrote for the newsletter On Center and photographs that bring us back to the stunning exhibits he envisioned then brought to light.
Donna James, Seniuk's partner, and his colleague, Kathleen Moles, completed the book in the spring of 2020, finishing a $40,000 project that is a work of art in itself.
The event, which begins at 12:30 pm on November 5, includes a slide show and readings from Seniuk's essays.
From his appointment as director-curator in 1989 to his retirement in 2012, Seniuk brought more than 150 exhibits to Port Angeles. The Port Angeles Fine Arts Center overlooks the city. He worked to connect the college and the Center through his vision of the creativity and expansive potential that was available "On the Boulevard," as he would sometimes say, and he often spoke of Esther Webster, honoring her legacy. The Websters' home became the PAFAC, and her generous gifts to Peninsula College continue to support students studying journalism.
Kate Reavey, Coordinator for Studium Generale, remembers the many ways Jake encouraged art education, for all ages and for all people.
"Jake welcomed the opportunity to teach, often and with poignant generosity of spirit," Reavey said. "Although he was absolutely brilliant, he was able to bring what he loved to a general audience when the occasion asked that of him."
Seniuk presented lectures in the Studium Generale series, and he attended many poetry readings and artist lectures at the college.
Reavey said she remembers hearing Tess Gallagher read in the incredible light and beauty of the Arts Center, and said she was grateful to Seniuk for creating such opportunities for the community and for visitors from international locales, as well as those who traveled to Port Angeles because of the exhibits and events he curated.
Seniuk welcomed exhibitions by local artists, as well, some of which highlighted the natural world, including installations in Webster's Woods, the outdoor park surrounding the center. 
This celebration of Strait Art was postponed from an April date, and the original plan was to offer a tour of campus so that guests could view "Eyes of the Lord," which was selected. Here are excerpts from the ArtsWA website:
"Eyes of the Lord" is an installation of eleven panels created by late artist Jake Seniuk. He printed the acrylic panels with photographic enlargements of eyes from European medieval and Renaissance paintings.
Curator Kathleen Moles selected this artwork as part of a collection of artworks for Peninsula College in Port Angeles. This artwork was acquired for the State Art Collection in partnership with Peninsula College.
Seniuk was a graduate of Harvard and the University of Washington in Seattle, where he obtained a Master of Fine Arts degree in photography.
To order a copy of the book and be added to the mailing list for future events, contact Moles at JakeSeniukBookProject@gmail.com(link sends e-mail). More information also can be found on the publisher's website, MarrowstonePress.com.
Studium Generale events are free and open to the public. For more information, contact Dr. Kate Reavey, kreavey@pencol.edu.
Join the Zoom meeting at https://zoom.us/j/95156136928
Meeting ID: 951 5613 6928