Join Peninsula College for a conversation that explores the injustices people with intellectual and developmental disabilities (I/DD) face, and how our community can grow to be more respectful, inclusive, and accepting of I/DD.  The final presentation in the Conversations Toward a Culture of Justice series will take place this Thursday, August 20 from 4:00 – 6:00 pm via Zoom.
The first hour will be devoted to presentations by panel members, and the second hour will be an opportunity for extended dialogue including questions from participants and the co-facilitators. All are invited to participate and contribute to the conversation, which is free and open to the public.
Conversation panelists include Nicholas Barrett, a 22-year-old who works at Black Bear Diner; Terry Barrett, an educator in the Sequim School District with a master's degree in Divinity; Priya Jayadev, the Executive Director of Clallam Mosaic; Catherine McKinney, Program and Communications Director for Clallam Mosaic and the sole caregiver for her sister with developmental disabilities; Christine Motokane, a special education paraeducator and a self-advocate with autism who holds a B.A. in psychology; and Wendy Bonham, program coordinator for the Clallam County Orcas, the local Special Olympics program, and mother of 36 year-old Garet, who has both intellectual and developmental disabilities.
Conversations Toward a Culture of Justice is co-sponsored by Studium Generale, Magic of Cinema, PC Forks, the Peninsula College English Department, the PC Library/Media Center, and ʔaʔk̓ʷustəƞáwt̓xʷ House of Learning, PC Longhouse. 
To join the conversation, go to https://zoom.us/j/99105600039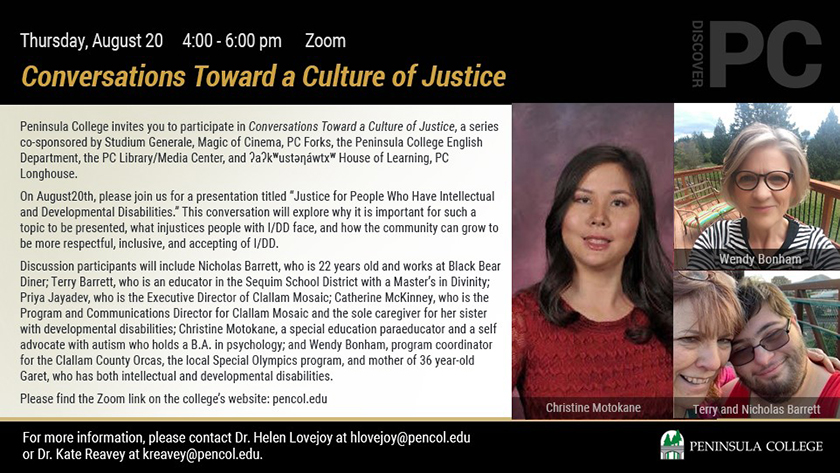 For more information, contact Dr. Helen Lovejoy at hlovejoy@pencol.edu or Dr. Kate Reavey at kreavey@pencol.edu.