The Curious Incident of the Dog in the Nighttime: Finding Meaning in an Odd World
June 12, 13, and 17th, the PC drama class will hold its first ever live show through the popular media known as Zoom!
The Curious Incident of the Dog in the Nighttime, an inspiring and thoughtful play about a teenage boy and the mystery behind the murder of a dog, will be performed by the Peninsula College Drama Department using Zoom at 7:30 on June 12, 13 and 17.
The play offers an interesting look through the eyes of Christopher, to be played by Will Fleck. He is a 15-year-old boy with Asperger's Syndrome, a developmental disorder that is on the autism spectrum. As Christopher navigates through a strange world with the help of his teacher, Ms. Siobhan, to be played by Emily Loucks, he dedicates himself to figuring out the culprit behind the death of Wellington, a neighbor's beloved pet dog. In the process, he finds out more about his past and the secrets those he meets may be keeping. The beauty within the show is the inspiring fact that, although Christopher thinks much differently from the other characters in the play and often has trouble relating to others, he is still able to overcome the challenges he is faced with throughout the story. 
Additionally, the show is a testament to how families that are less than functional can still find ways to love and stay together. It's true that no one is perfect, but that doesn't stop Christopher from accomplishing his goals. That is what makes the production so beautiful: the deeper into the story you find yourself, the more apparent it becomes that no amount of dysfunction in his life will be able to stop the light from shining through.
The Curious Incident is based on a mystery novel written by Mark Haddon and released in 2003. It sold over two million copies and won the 2003 Whitbread Book of the Year award. It has been positively acclaimed by critics, with a reviewer for the Atlanta Journal-Constitution noting the novel as "a unique window into the mind of a boy who thinks a little differently, but like many kids his age, doesn't quite know how to feel..." 
Despite the difficult and strange times that the world has found itself in, the Drama Department will be performing on Zoom instead of in a live theater. Many productions around the world have already found a home on Zoom or other livestreaming services. The experience is expected to be distinctly different from sitting in a live audience, but nonetheless it will be an experience to remember, as well as an uplifting event to chase away the quarantine blues. Danielle, the tech director for the production, finds using Zoom to perform "difficult." She explains that "technical problems could happen any minute" and that face-to-face theatre is preferable. However, she appreciates the "mute" function that Zoom offers to reduce distracting noise during class and performances.
Will Fleck will be performing as Christopher along with Emily Loucks as Siohban and Graham Nott as Ed. Dr. Lara Starcevich will be directing the performance with Mark Valentine and Richard Stephens as Assistant Directors. The performance will be livestreamed at 7:30 pm on June 12, 13, and 17 via Zoom. If you haven't already, you can download the free Zoom computer application through this link: https://www.zoom.us/. You can buy your tickets (or get your free passcode if you are a PC student) by contacting Dr. Lara Starcevich at laras@pencol.edu. Again, tickets are free to PC students and $6 for the general public. 
Dr. Lara Starcevich>>>Director
Mark Valentine>>>Narrator and Asst. Director
Richard Stephens>>>Costume Designer and Asst. Director
Pete Griffin>>>Tech Department head
Danielle Custer>>>Theatre Tech
Will Fleck>>>Christopher and Makeup Designer
Emily Loucks>>>Siobhan
Tia Stephens>>>Judy
Graham Nott>>>Ed
Mike Roggenbuck>>>Roger
Brianna Yacklin>>>Mrs. Shears
Sarah Tucker>>>Mrs. Anderson
Kaysey Roberts>>>London Cop
Haotian Sky Zhu>>>Duty Sergeant
We hope you will join us as we solve the mystery with Christopher as to who killed Wellington!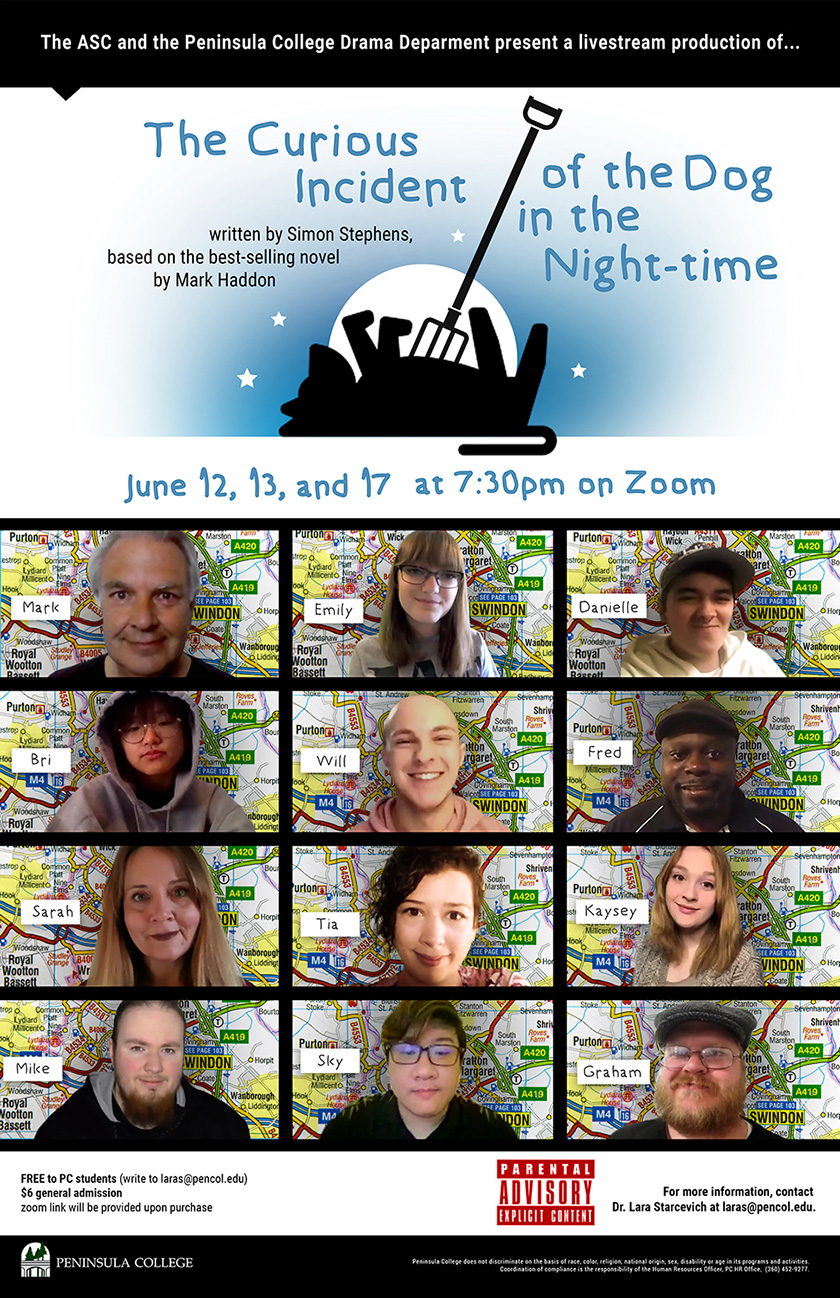 For more information contact Dr. Lara Starcevich at laras@pencol.edu or (360) 461-2055.