The David Jones Trio will take the Little Theater stage May 30, at 12:35 pm, on Peninsula College's main campus for a Studium Generale performance.
Dr. David P. Jones is the head of the Music Program at Peninsula College and has served as director of PC's Jazz Ensemble since 2008.  He has performed with Bob Curnow, Mike Bisio, Brad Sheppik, Jazz Police, Craig Buhler and many other local jazz musicians.  His trio with Ted Enderle (bass) and Terry Smith (drums) has backed Dmitri Matheny, Mark Lewis, and John Stowell as well as performing several times in the Port Angeles area over the past few years.
Enderle and Smith "are two of the finest musicians on their respective instruments in the Pacific Northwest with experience in many different styles of music. Their collective groove is always a treat for the audience and for the other musicians on the bandstand," according to a recent article in The Peninsula Daily News.
Dr. Jones is also a noted jazz composer/arranger whose works have been performed by the Bob Curnow Big Band, Jazz Police, Jim Cutler Big Band, Straight No Chaser Big Band (UK), and many college jazz ensembles including those from Indiana University (conducted by David Baker), University of Missouri-Kansas (Bobby Watson), University of Iowa (John Rapson), Rutgers University, University of Washington, and Peninsula College.  His jazz ensemble compositions have been heard at the following jazz festivals: Reno, Lionel Hampton, University of Alaska-Fairbanks, Eau Claire (WI) and Tacoma.
Terry Smith began his professional music career in the mid-seventies. Embracing the philosophy of never turning down a gig, he has become equally adept in a wide range of musical styles including funk, jazz, blues, rock, and country.  He has consistently been the drummer of choice to share the stage or studio with numerous artists and bands. He is currently the backbone of local groups Kayhoti, Joy In Mudville, and The Crocs.
Enderle, originally from Philadelphia, studied double bass with noted jazz bassist Al Stauffer and with Roger Scott, principal bassist with the Philadelphia Orchestra. He has performed on both coasts of the U.S. with an impressive range of jazz artists.
The event is free and open to the public.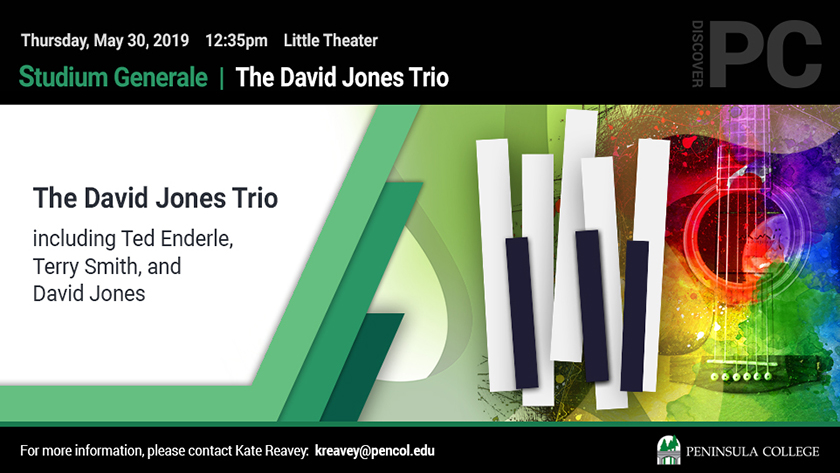 For more information contact Dr. Kate Reavey at kreavey@pencol.edu.