Kick off those "winter blues," sip some hot coffee or tea, and enjoy a healthy dose of America's Classical Music during "Jazz at the PUB," Tuesday, November 26 at 12:30 pm in the PUB, at Peninsula College.  
Hear the Peninsula College Jazz Ensemble under the direction of Dr. David P. Jones.  Patrons may buy lunch, get coffee at the PC Market & Deli, or bring their own food and drink.  Encounter jazz while studying, reading or just come to enjoy the tunes.  
Three singers will be featured during concert, including Robbin Eaves (of Joyce), Clare Wegener (Port Angeles), and Scott Sizer (Port Townsend). The 18-piece PC Jazz Ensemble will also be heard on several instrumental numbers. The composers and bandleaders represented on this concert include Duke Ellington/Billy Strayhorn, Count Basie, Bill Holman, Pat Metheny, A. C. Jobim, Marty Paich, Larry McVey, and David P. Jones.
The singers have chosen some fine songs from Irving Berlin, Harold Arlen, Ray Noble, Victor Herbert, Luis Bonfa and Horace Silver.  Some of these will certainly be familiar to you.
The performers in the band represent some of the very best jazz that the North Olympic Peninsula has to offer. From Port Angeles are Tiffani Miller (violin), Richard "Doc" Thorson (tenor sax), Conner Blauser (baritone sax), Marge Rosen (trumpet), Jordan Nicolas (trumpet), Kris Grier (trumpet), Clare Wegener (euphonium), and David Jones (keyboards/director).  Sequim has provides Signe Crawford (alto sax), Andy Geiger (tenor sax), Jeff Dingle (trombone), Steve Burdick (trombone), Tim Naples (bass trombone), Elaine Gardner-Morales (bass), and Nicia Pfeffer (drums).  From Port Townsend are John Adams (alto sax/soprano sax/bass clarinet), and Scott Sizer (trumpet). And drummer Tim Malland comes all the way from Bremerton.  
The event is free and open to the public.
For more information, contact Dr. Jones at (360)-417-6405 or at djones@pencol.edu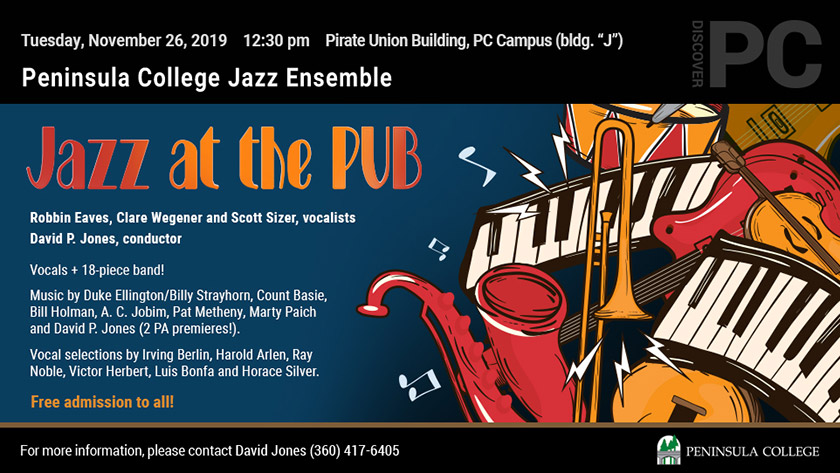 For further information, contact Dr. Jones at (360)-417-6405 or at djones@pencol.edu