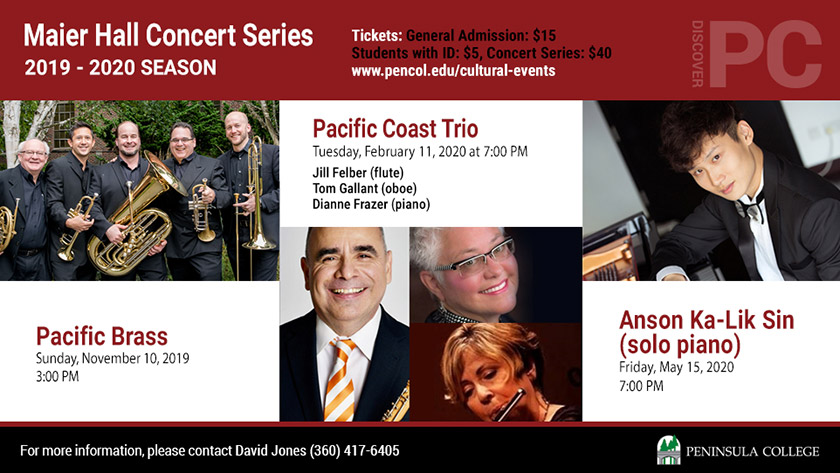 Peninsula College and the PC Foundation are pleased to announce the artists and dates for the eighth season of the Maier Hall Concert Series.  Audiences will be treated to a brass quintet from the Seattle-Tacoma area, a continent-spanning woodwind/piano trio (New York, Los Angeles and Baton Rouge), and an award-winning pianist from South Korea who was a Peninsula College student earlier in his career.  All concerts take place in the beautiful and acoustically splendid Maier Performance Hall on the campus of Peninsula College.  Individual and Season Tickets will be available online or at the door.  See the link at the end of this press release.
Kicking off the series, Pacific Brass performs a wide array of classical music, pops, seasonal fare, show tunes and more.  Several members of this brilliant quintet are on the faculty of University of Puget Sound.  Individually they hold current or past Principal positions with Vancouver (B.C.) Symphony, Pacific Northwest Ballet Orchestra, Bolshoi Ballet, Auburn Symphony Orchestra, Seattle Opera, Eugene Symphony, Tacoma Symphony, and the Yakima Symphony Orchestra.  These gentlemen have also performed extensively with Seattle Symphony Orchestra, Tacoma Symphony, the Opera Company of Boston, Northwest Sinfonietta, Northwest Chamber Orchestra, Hong Kong Philharmonic Orchestra, the 5th Avenue Theater, and the symphony orchestras of Springfield (MA), New Hampshire, Portland (ME), Rhode Island, Virginia and Mexico City.  Additionally, members of this fine brass quintet have appeared onstage with Ray Charles, Doc Severinsen and The Moody Blues.  Pacific Brass performances are marked by the highest standards of classical musicianship, brilliant showmanship, an engaging atmosphere and a very accessible but eclectic mix of styles.  You will NOT be disappointed by this group!  Their show will take place on Sunday, November 10 at 3:00 PM (note the afternoon time for this concert!).
* * * * *
Another new voice on our series is the Pacific Coast Trio.  An exquisite pairing of winds and piano, this threesome performs a generous selection of music from Mozart and Salieri to music by Bach, and even a 19th-century Fantasy on Themes from Rossini's "William Tell".  The trio also performs a wide variety of 20th-century works and new commissions.  Consisting of flute, oboe and piano, this ensemble has an incredibly high level of musical standards.  This is a unique opportunity to hear this group live, hailing, as they do, from New York City, Los Angeles and Baton Rouge.
Thomas Gallant is a First Prize Winner of the Concert Artists Guild International New York Competition and one of very musicians ever to win the competition as an oboe soloist.  His performances have taken him to David Geffen Hall, Weill Recital Hall, Morgan Library and the Frick Collection in New York City, to Washington, DC, Los Angeles, Chicago, Philadelphia, to the Spoleto Festival in Italy, and to the Mostly Mozart Festival at Lincoln Center.  He has appeared as guest soloist with the Kronos Quartet at the Ravinia Festival and has collaborated with flutist Jean-Pierre Rampal, with Cuarteto Casals from Spain, the Colorado, Tesla, Calder and Lark Quartets, Cuarteto Latinoamericano and with the Adaskin String Trio.  Recent and upcoming performances include a concert of solo and chamber music works for the oboe at the Library of Congress in Washington, DC,  tours across the United States as soloist with Camerata Bariloche from Argentina and the String Orchestra of New York City performing concerti by J. S. Bach and Vaughan-Williams as well as tours of Europe and China. 
Jill Felber is an internationally acclaimed recording artist, dynamic flute recitalist, innovative chamber musician, and a legendary contemporary music specialist.  She has been hailed for her "beautifully finished performances" by The Detroit News and has been praised by Musical America for her "handsome performance."  The British journal PAN writes, "Felber was stunning…not only refined but also full of fun."  "The incredible…dazzling… radiant flutist Jill Felber" (The Independent, Santa Barbara), is known to excite audiences everywhere in concerts and recitals "played with flair" (The Los Angeles Times). "The outstanding American flutist Jill Felber" (Gazeta Rybnicka, Poland) is acclaimed worldwide for her "consummate musicianship" (Fanfare).
Ms. Felber has performed solo recitals, chamber music, and concertos on five continents and has held residencies in Hong Kong, Taiwan, Australia, Mexico, France, Switzerland, Great Britain, Italy, Canada, Brazil and the United States. Also a tireless promoter of new music, Ms. Felber has inspired many composers to write solo and chamber works for her and for her flute duo ZAWA!, and is currently engaged in several commissioning projects. She has premiered over five hundred works for the flute and has released world premiere recordings for Centaur Records, CRI, Neuma Records, BCM+D Records, and ZAWA!MUSIC.  Having served as Chair of the Department of Music at UC Santa Barbara, she currently serves on the Board of Directors for Santa Barbara's Community Arts Music Association and on the Board of Directors for Areon Flutes.  
Dianne Frazer is recognized globally as a premiere collaborative pianist. Known for her wit and style on and off stage, she "exudes an energy and an excitement that is both irresistible and endearing." She has performed with a "who's who" of international artists, and has performed in Weill Recital Hall in Carnegie Hall, Avery Fisher Hall, and Merkin Hall. According to Branford Marsalis, "Dianne is one bad-ass pianist!"  Dianne is on the faculty at Louisiana State University, is a principal pianist for the National Flute Association, International Society of Bassists, the MTNA Southern Division, the Florida Flute Association, and has been a pianist at the Oberstdorf Music Festival in Germany, World Bass Festival in Poland, ISI Florence in Italy, Bradetich International Double Bass Competition, International Hornists Society, International Trumpet Guild, North American Saxophone
Alliance, International Clarinet Association, International Tuba Euphonium conventions, and numerous state and regional festivals.  When off the road, she is Acting Principal Pianist with the Baton Rouge Symphony Orchestra.
Pacific Coast Trio performs on Tuesday, February 11 at 7:00 PM.
* * * * *
Friday, May 15, 2020, 7:00 PM Anson Ka-lik Sin, solo pianist
Possessing a rare combination of musical instinct, unique voicing, and flawless technique, Anson Ka-lik Sin has found success in performances and competitions worldwide. He was first recognized for his debut performance with the Port Townsend Symphony Orchestra at the age of eighteen while he was still a student at Peninsula College.  For this performance he received glowing reviews from critics: "Phenomenal in both the violin and the piano," wrote Peninsula Daily News. "His beautiful playing is lovely, intimate, impression all in one… I could hear crisp, clear lines and details… brilliant control of the characters… very convincing style and bravura!," wrote Oregon Music Teachers National Association. Anson has performed as a concert pianist internationally in many well-known concert halls in the world, including New York City - Carnegie Hall and Hong Kong Cultural Center. 
In February 2017, Sin was prizewinner with silver award in Manhattan International Young Artists Music Festival Competition leading to an invitation to perform in the Prizewinners Gala Concert at New York Carnegie Hall in July 2017. In 2018, he was the first prizewinner in Glory International Modern & Contemporary Music Competition, Great Composers International Music Competition, and Grande Ronde Symphony Orchestra Concerto Competition. In November 2018, he was awarded and named the first-place alternate in theOregon MTNA-Steinway Young Artist Competition. In 2019, he was one of the prizewinners in Oregon State Petri Scholarship Competition. Sin has won competitions in Hong Kong, including Winner in 2016 Hong Kong Asia - Pacific Youth Piano Competition, and Hong Kong (Asia) Youth Piano Competition 2015, First Class in the Open Class of 2014 Tchaikovsky and Kabalevsky Piano Competition of 14th Hong Kong (Asia Pacific) Piano Competition.
Anson will finish off our season with a solo piano recital on Friday, May 15 at 7:00 PM.
For more information about the series:
https://pencol.edu/cultural-events/concert-series
For ticket purchases, visit the following website (tickets also available at the door on concert night).