August 6th, 4-6pm, through Zoom, when poets Gary Copeland Lilley and Jourdan Imani Keith will share the microphone. This conversation will begin with a poetry reading, and the event was inspired by a Juneteenth gathering hosted by Jourdan Imani Keith, who is the Seattle Civic Poet. She invited Lilley and other poets to join her, to read some of their own original poetry or the work of other poets, and then to engage in dialogue as they honored and celebrated the importance of Juneteenth. 
Here is a little more information about the poets: 
The City of Seattle's  2019 -2021 Civic Poet, Jourdan Imani Keith is a storyteller, essayist, playwright, naturalist and activist. The author of the anthem Let Seattle Be she is a student of Sonia Sanchez. Her TEDx Talk, "Your Body of Water," the theme for King County's 2016-2018 Poetry on Buses program won an Americans for the Arts award. Her poetry is largely anthologized and was long listed by Danez Smith for Cosmonauts Avenue poetry prize. Keith's Orion Magazine essays, "Desegregating Wilderness" and " At Risk" were selected for the 2015 Best American Science and Nature Writing Anthology (Houghton Mifflin). She has been awarded fellowships from Hedgebrook, Wildbranch, Santa Fe Science Writing workshop, VONA, and Jack Straw. Her memoir in essays, Tugging at the Web is forthcoming from University of Washington Press. She is the founder and director of Urban Wilderness Project. 
Gary Copeland Lilley is the author of eight books of poetry, the most recent being The Bushman's Medicine Show, from Lost Horse Press (2017), and a chapbook, The Hog Killing, from Blue Horse Press (2018). He is originally from North Carolina and now lives in the Pacific Northwest. He has received the Washington DC Commission on the Arts Fellowship for Poetry. He is published in numerous anthologies and journals, including Best American Poetry 2014, Willow Springs, The Swamp, Waxwing, the Taos International Journal of Poetry, and the African American Review. He is a Cave Canem fellow.
This series is co-sponsored by Studium Generale, Magic of Cinema, PC Forks, the Peninsula College English Department, PC Library/Media Center, and  ʔaʔk̓ʷustəƞáwt̓xʷ House of Learning, PC Longhouse. We are grateful for generous contributions to the Peninsula College Foundation.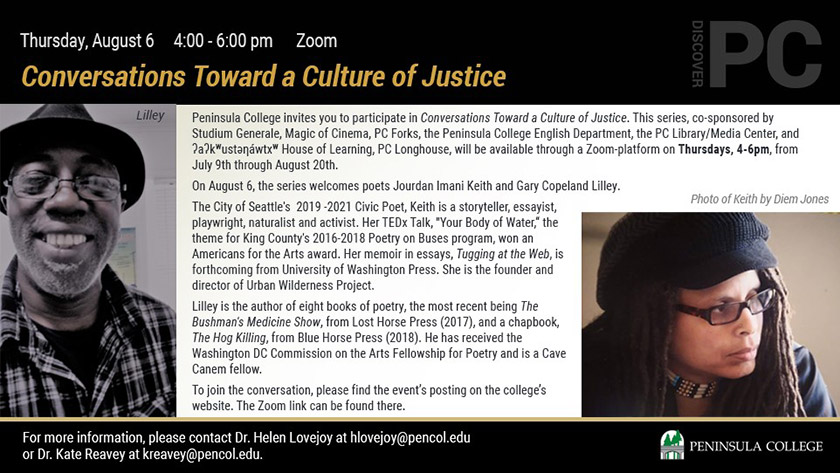 For more information, contact Dr. Helen Lovejoy, hlovejoy@pencol.edu or Dr. Kate Reavey, kreavey@pencol.edu