Peninsula College Professor and Multimedia Communications Program Coordinator Renne Emiko Brock was named the 2020 "Thinkerer Award" recipient by the Virtual Worlds Best Practices in Education Organizational Committee.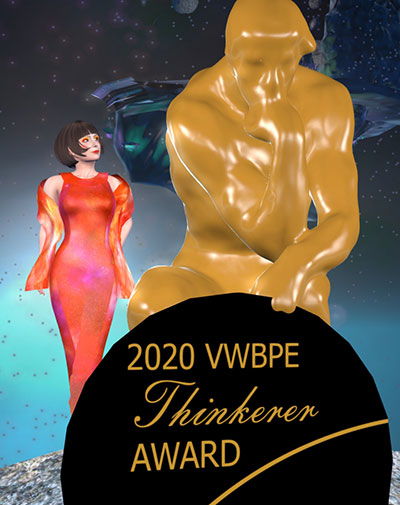 The personal achievement award was first instituted in 2014 to recognize someone who has provided outstanding service to both the field of education and the virtual world community at large. It is presented to an individual whose deeds and actions have shown consistent, selfless service towards the promotion of learning, community, educational practices, and who exemplifies the spirit of cooperative development within immersive environments.  The award got its name from Dr. Selby Evans' avatar, named Thinkerer.
"You must have courage to encourage. I am grateful that I teach at a college that embraces innovation," said Brock in her acceptance speech on March 28 at the virtual awards ceremony. "Peninsula College has been supportive of me teaching in virtual worlds for over 11 years. I love my students who are true trailblazers!"
Brock is an artist and instructor, and has actively taught college level fine art and digital media since 1997. She began teaching virtual world use in 2008 at Peninsula College. She makes sure to establish agency immediately with learners by articulating aspired identity and creating authentic avatars with focused pursuits and ownership of their purpose.
Brock earned her Bachelor of Science in Art at Lewis & Clark College, and her Master of Fine Arts in Visual Art at Vermont College of Fine Arts at Norwich University. In 2009, she graduated from the University of Washington's inaugural Virtual Worlds Program and returned as a lecturer and mentor. Virtual worlds provided a perfect medium for her research, art practice, and educational installations, Brock said.
She hosts and develops community activities as Board Co-Chair of the Nonprofit Commons and as a faculty member at Peninsula College, University of Washington Virtual Worlds Program, Virtual Worlds MOOC, Rockcliffe University Consortium, Virtual Ability, Brain Energy Support Team, Virtual Community Library, and many more. Through virtual networking, fundraising, exhibition and education creation, and mentorship, she facilitates partnerships to utilize 'superpowers' and bring out the best in people.
The Nonprofit Commons Board stated, "Renne is a tireless campaigner for using virtual worlds for learning, to connect and to collaborate. She is a 'superhero' for us all."
To view the 2020 Thinkerer Award Presentation, visit https://youtu.be/fe0Au9fnJ_0?t=3625