Studium Generale, ʔaʔk̓ʷustəƞáwt̓xʷ House of Learning, PC Longhouse, and Magic of Cinema are excited to welcome filmmaker Sandra Sunrising Osawa and screen her film Usual and Accustomed Places.
The film is an account of Pacific Northwest tribes' century-long struggle to uphold their fishing rights. It also focuses on the history of the Makah Nation.
The film was directed by Osawa, a local filmmaker who has spent her award-winning career giving voice to contemporary Native issues. A member of the Makah Indian Nation, Osawa was raised in both Neah Bay and Port Angeles, holds a BA from Portland's Lewis and Clark College, and attended the UCLA graduate film program. Her films include Lighting the 7th Fire (1995), Pepper's Pow Wow (1999), On & Off the Res' w/ Charlie Hill (2000), Maria Tallchief (2007), and Princess Angeline (2011), plus over 60 works for museums and tribes.  Her work is studied in college classrooms across the country and most recently, The University of North Carolina purchased her entire collection, including her first UCLA student film. 
Today, Osawa lives and works in Seattle where she is co-owner of Upstream Productions with her husband and longtime film partner, Yasu Osawa. The two are currently working to extend Usual and Accustomed Places through 1980.
Along with her career as a filmmaker, Osawa worked for her tribe creating and directing the first Indian Head Start Program in the state, and developed early programs in carving, weaving, dancing, and language to help retain Makah culture.  Elders taught in Head Start and the local school, where their traditional contributions had been non-existent. Osawa recalls an elder who attended Neah Bay schools and later taught at The Evergreen State College, telling her that she may not have realized it, but her efforts in the school were "nothing short of revolutionary."
The film will be screened on Friday, October 23, at 4:00 p.m.; Monday, October 26, at 3:30 p.m.; Tuesday, October 27, at 9:00 a.m. and 12 p.m.; and Wednesday, October 28, at 6 p.m. Please use this Zoom link to join: https://us02web.zoom.us/j/88181472072
To join for a screening and the discussion with Osawa, please use the following link on Thursday, October 29, at 12:30 p.m.: https://zoom.us/j/95156136928 .
These screenings and the discussion are free and open to the public.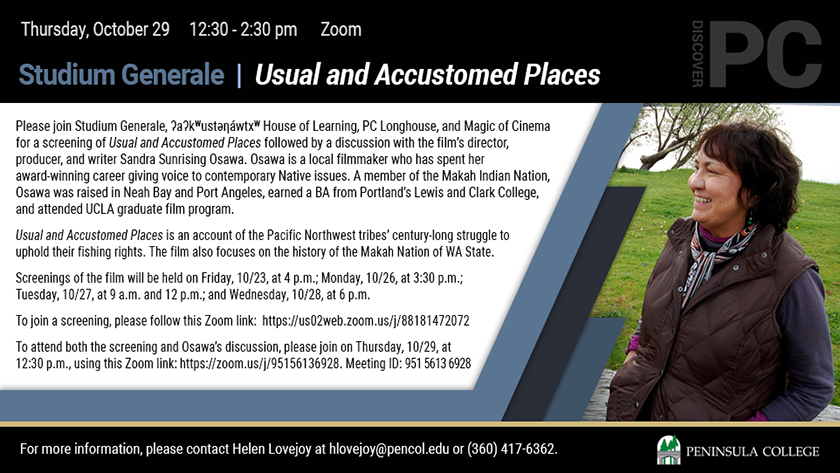 For more information, please contact Dr. Helen Lovejoy at hlovejoy@pencol.edu or (360) 417-6362.