The Peninsula College League of Legends esports team opened its season Saturday against the University of Fraser Valley, falling to the Cascades 2-0.
Marshall Matlock, Luke Salvador, Jun Vu, Kyle Rosander and Joseph Pizzuto represented the Pirates in the College's first ever intercollegiate esports match. Coach Charlie Morrow said they represented the program well against the more experienced university team out of Abbotsford, B.C.
 "Although today's match was challenging, it gives us an idea of what to work on and how to improve for future matches," Morrow said. "Our team is still very new and transitioning from a solo queue environment to a team-based environment. One of our biggest learning opportunities is communication. Everyone's incredibly motivated to improve and have fun."
The PC team won't have much time to work on their communication and their game skills. The Pirates see their next Collegiate Starleague match on Saturday against the University of Oregon.
For more information contact Rick Ross at rross@pencol.edu.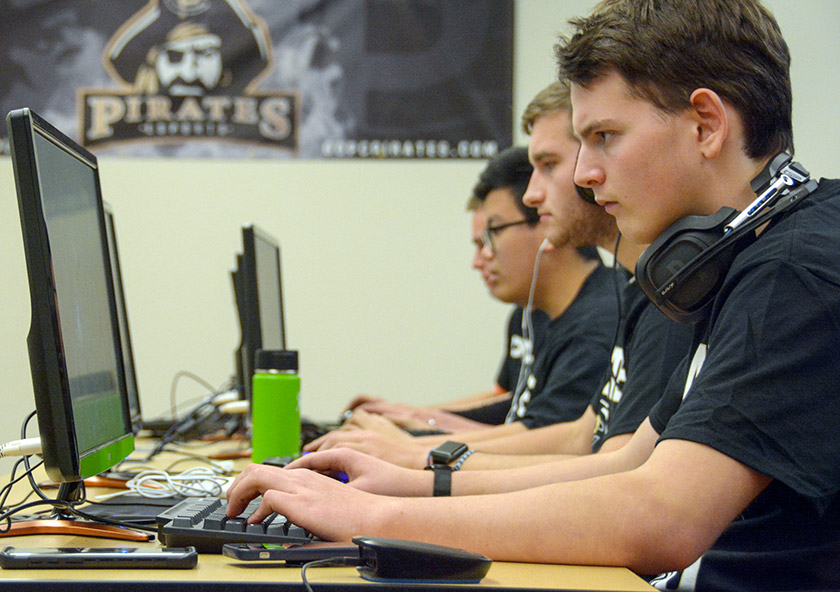 Pictured from closest to furthest: Marshall Matlock, Luke Salvador, and June Vu.