No matter where you are on a Peninsula College campus, you are just steps away from experiencing unique works of art created by artists who are living and working in the Pacific Northwest.
The latest additions to the collection include seven pieces at the Port Townsend campus, in Building 202 at Fort Worden.  A reception and viewing of this artwork, which is open to the public, will take place from 3:30 pm to 5:00 pm on Tuesday, May 14.
Peninsula College President, Dr. Luke Robins, and Anna Forrestal, Director of the Port Townsend campus, will speak briefly at the reception.
"The art across all Peninsula College campuses represents a wide range of artistic styles and themes," President Robins said.  "We're proud to have a permanent thought-provoking collection that stimulates the cultural and learning environment for our students and the public.  We hope that everyone takes the opportunity to see these works, and recognize the impact of the Art in Public Places Program, and how energizing it can be in the spaces where we study and work and meet together." 
The collections installed recently at the Port Townsend and Port Angeles campuses were selected by a committee of representatives from Peninsula College and the Washington State Arts Commission, and features new, emerging, and local Northwest artists whose work is diverse, inspiring and complex. 
"Our goal was to expand horizons and push boundaries, while providing interest, color and contrast to the beautiful facilities where the art is installed," said PC Director of Facilities Planning and Operations, Patty McCray-Roberts,.
Three artists with seven works total are featured at the campus.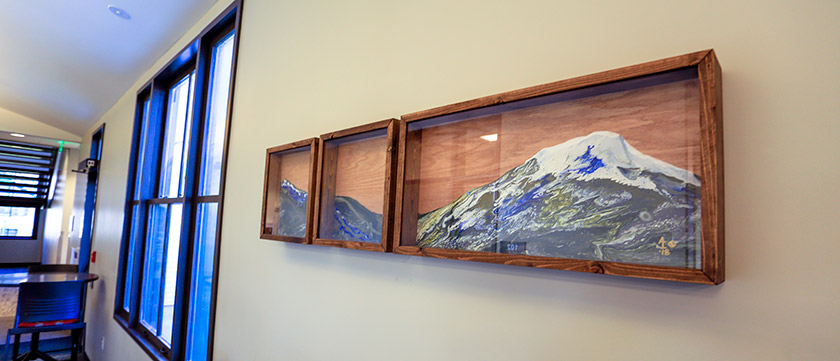 Artist: Auburn Isaak "Wind Wave"
Seattle-based artist Lauri Chambers creates oil-based abstract paintings. She works mainly in black and white squares. Her paintings are visual representations of the impossibilities of language. Lauri Chambers received a Bachelor of Fine Arts degree from the University of Washington, Seattle.
Oregon-based artist Auburn Isaak creates landscape and seascape paintings. She describes her work as "an interpretation of the human experience and a record of that occurrence." Auburn Isaak received a Bachelor of Science degree in Art at Eastern Oregon University in La Grande, Oregon.
Northwest painter Karen Hackenberg playfully challenges how waste affects the environment. In an ongoing painting and drawing series, she captures images of trash found near her studio. She also creates drawings on an iPad, intentionally leaving them unfinished. She has served as a panelist, curator, and instructor in both the field of art and environmental affairs. Karen Hackenberg received her Bachelor of Fine Arts in Painting at Rhode Island School of Design in Providence.
This art was funded by the State of Washington's Art in Public Places Program, which was established in 1974 by the Washington State Legislature.  The intent was to set aside one-half of one percent of the state's portion of construction costs of State-funded buildings to provide for the acquisition of art for K-12 public schools, colleges, universities, and state agencies.  The art allocation for a recent construction project on the Port Angeles campus provided for the installation of these pieces on the Port Townsend campus.
The majority of Peninsula College's collection of art funded by the Art in Public Places program is installed on the buildings and grounds of the Port Angeles campus.
For more information about the Peninsula College art collections, contact Kelly Griffith at kfriffith@pencol.edu.