Housing
Peninsula College offers international students two options for housing; Homestay and Off-Campus Apartments. Our helpful staff will assist you with both options and take care to help you select the best option for your lifestyle.
Homestay
Best way to experience American life and improve your English skills quickly by using it in everyday situations.
Your Host will provide you with your own furnished bedroom.
Homestay provides food for three meals per day, of which 5 per week are prepared by the Host.
Homestays are located an average of a half hour by bus or a short walk from campus.
Our Program staff carefully selects warm and welcoming Homestays to satisfy students' desire to learn English, introduce them to the beauty of the Olympic Peninsula, allows opportunities to participate in household activities, and help our students learn life skills to become more independent. Student satisfaction with their Homestay experience is one of our top priorities.
Off-Campus Apartments
Peninsula College refers students who wish to live off campus to a local apartment management source. Students can choose apartments with one or more bedrooms. Meals are not provided with the off-campus apartment option. Most apartments are located within a short distance from Peninsula College and are accessible by bus.
To check available listings, visit Port Angeles Rentals
Transportation
Port Angeles is the largest city on the Olympic Peninsula and offers various transportation options to visitors and residents. Taxis can be called upon or collected from William R. Fairchild International Airport (Green 8 Cabs or Blue Top Cabs) which services Port Angeles and is located less than 15 minutes from Peninsula College. Due to it's unique and beautiful location, transportation from Seattle averages 2 1/2 hours by car/bus/ferry, while Victoria is 1 to 1 1/2 hours by ferry. Seattle and Victoria can be reached within less than a half hour by air.
---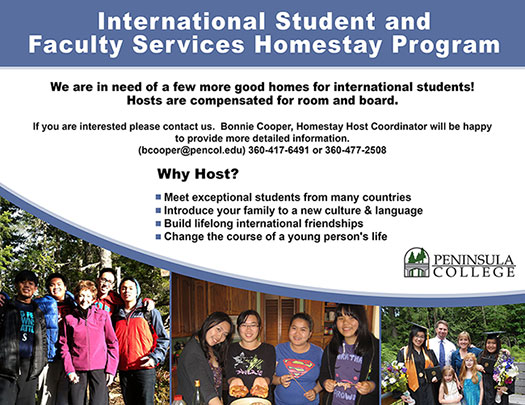 Peninsula College
1502 E. Lauridsen Blvd.
Port Angeles, WA 98362 U.S.A
Tel: (360) 417-6491
Fax: (360) 417-6482
international@pencol.edu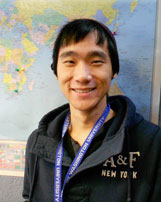 "Peninsula College is a 'best buy' college because you don't have to pay a lot to get a high-quality education.
I lived with a host family for two years and I learned the laguage and culture and developed life-long relationships with Americans."
Name: Bruce
Major: Computer Science
Country: China
Transfer University: Western Washington University