Housing for International Students
Peninsula College offers international students two options for housing; Homestay and Off-Campus Apartments. Our helpful staff will assist you with both options and take care to help you select the best option for your lifestyle.
Homestay
Our Homestay Coordinator carefully selects warm and welcoming Homestays to satisfy students' desire to learn English, introduce them to the beauty of the Olympic Peninsula, allows opportunities to participate in household activities, and help our students learn life skills to become more independent. Student satisfaction with their Homestay experience is one of our top priorities.
A full homestay includes:
Three meals daily – access to the kitchen and food made available for breakfast and lunch, dinner prepared by the Homestay Host on most nights (at least 5 nights a week)

A clean, private room with a desk, a lamp, and a bed

Laundry facilities

Access to transportation to the College

Access to Internet

A supportive living environment for English language learning

Invitations to be included in family activities.
New Hosts Apply Here:
 Form for anyone interested in hosting an international student in their home.
Off-Campus Apartments
Peninsula College refers students who wish to live off campus to a local apartment management source. Students can choose apartments with one or more bedrooms. Meals are not provided with the off-campus apartment option. Most apartments are located within a short distance from Peninsula College and are accessible by bus.
To check available listings, visit Properties by LANDMARK Inc. or Port Angeles Rentals.
---
Related Documents
Homestay Handbook 2016.pdf
Departure Form.pdf
Agreement-for-minors.pdf
Peninsula College
1502 E. Lauridsen Blvd.
Port Angeles, WA 98362 U.S.A
Tel: (360) 417-6491
Fax: (360) 417-6482
international@pencol.edu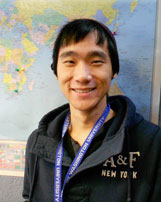 "Peninsula College is a 'best buy' college because you don't have to pay a lot to get a high-quality education.
I lived with a host family for two years and I learned the laguage and culture and developed life-long relationships with Americans."
Name: Bruce
Major: Computer Science
Country: China
Transfer University: Western Washington University