Scholarships
Students who are attending or will be attending Peninsula College can apply now for Peninsula College and Peninsula College Foundation scholarships via the www.theWashBoard.org. 
The Peninsula College Foundation is currently offering dozens of scholarships to students attending Peninsula College for the 2016-2017 school year!
How to find scholarships:
1. Go to www.theWashBoard.org to create a log in and start your personal profile. Please Note: DO NOT USE INTERNET EXPLORER. You must use a Firefox or Chrome web browser to effectively navigate the WashBoard site. 
2. Enter Peninsula College in the "search scholarships" box in the upper right-hand corner.
3. Review the scholarship application criteria and apply!
The 2016-2017 scholarship application process opens January 22, 2016, and applications are due Tuesday, April 19, 2016. Award notifications will be provided to students beginning Friday, May 20, 2016. Late or incomplete applications will not be considered.
---
Scholarships are available in these areas:
Nursing and Medical Assistant programs

Area high school students and graduates

Automotive technology and welding studies

Single parents

Vocational studies

Students with financial need

Adults returning to college

Science, environmental studies, math, chemistry, biology, and physics

English, theatre, music, creative writing, and journalism studies

First-time students

Early education, teaching, and library studies

Business administration

Community service
Student tips for scholarship success:
1. Start Early!  The process opens January 22, 2016, and applications are due Tuesday, April 19, 2016. Many scholarships require recommendations, personal essays, and unofficial transcripts to complete your applications. Don't wait until the last minute to start your application!
2. Complete Your Profile! The more complete your profile, the better informed the scholarship committee will be when making final decisions. 
3. Wow Them with Your Personal Statement! Personal statements and essays are the best way to tell the scholarship committee why you deserve this scholarship. Be sure to provide well-written, creative statements that define your aspirations, career goals, and talents. 
4. Follow Directions! Be sure to read the application requirements closely and follow the instructions word for word. At the same time, keep it simple. Don't waste time submitting additional application materials that are not required because they will not be included in the review process.  
5. Submit On Time! You must submit your completed application(s) by the Tuesday, April 19, 2016 deadline or your application will not be considered. 
Contact info:
Peninsula College Foundation
(360) 417-6246
foundation@pencol.edu
OR
Financial Aid Office, Peninsula College
(360) 417-6390
What is WashBoard?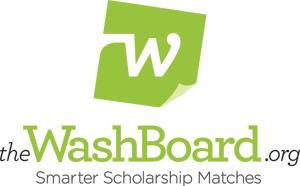 Designed to be a one-stop-site, theWashBoard.org is a free, student-centered, online clearinghouse for Washington students seeking college scholarships. This user-friendly site allows students to search and apply for verified scholarships that are specific to their academic interests, college or university, or other criteria. And it is advertising and spam-free.
Scholarship providers will benefit from the increased exposure, reduced paperwork and access to statewide scholarship data.
To get started, visit theWashBoard.org and register today!
Related Documents