$150,000 in scholarships are available for students planning to attend Peninsula College for the 2023-24 academic year.  NEW THIS YEAR—a more simplified process with streamlined instructions!
Apply NOW
Log into theWashBoard.org (change browsers if you experience technical issues).
Create or update your user profile as a "Scholarship Seeker."
Enter "Peninsula College" in the search bar to find dozens of scholarships, each one with clear criteria.
Important Information
Application deadlines:


General Scholarships – May 22, 2023 (notifications on or about June 12, 2023)
Nursing Scholarships – July 17, 2023 (notifications on or about July 24, 2023)

Late or incomplete applications will not be considered.
Some awards are for full-time attendance, while others allow for part-time attendance. Awards for part-time attendance are typically pro-rated.
Peninsula College Foundation strongly urges recipients to write a thank you note or letter after receiving an award. This aids in keeping donors engaged year after year in support of PC students, like you! 😊
For Financial Aid, FAFSA and other resources, visit pencol.edu/financial.
Find other scholarships here: Additional Scholarship Resources.
Contact Us
---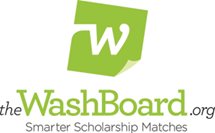 What is WashBoard?
Designed to be a one-stop-site, theWashboard is a free, student-centered, online clearinghouse for Washington students seeking college scholarships. This user-friendly site allows students to search and apply for verified scholarships that are specific to their academic interests, college or university, or other criteria. And it is advertising and spam-free.