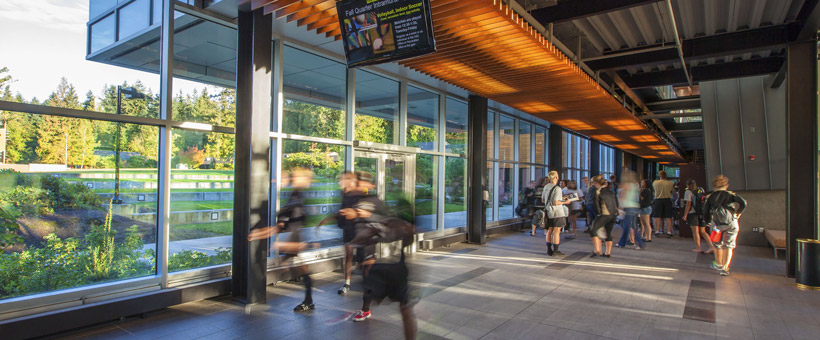 Peninsula College participates in a broad range of financial aid programs designed to assist you if you are unable to meet college costs through other means. In determining any student's ability to contribute toward educational expenses, the college is required to use a uniform need-analysis system to determine eligibility for state and federal programs.
The 2023–24 FAFSA Is Now Available
The 2023–24 FAFSA was made available October 1, 2022.
It is for the academic year starting Summer 2023, and extending through Spring of 2024. For Financial Aid Priority Consideration dates, click here.
Complete your financial aid file.
Once the FAFSA is filed and Peninsula College receives it, students will be notified via email if they have any further documents required. Students must complete their financial aid file by submitting any required documents listed in their student ctcLink account, in the Tasks tile. PC transitioned to a new college-wide system during Spring 2020, so students applying for aid will be directed to a new site called ctcLink to access their financial aid status and required documents. 
Financial aid forms can also be found on our website here.
Additional Resources:
---
Big FAFSA Changes Coming for 2024-2025:
The Department of Education (ED) has made significant changes to the FAFSA process as part of the FAFSA Simplification Act and we'll see those changes begin with the 2024-25 application form and academic year. Besides updating the form, ED has changed some of the policies used by schools and changed the need analysis formula used within the application. The 24-25 FAFSA form should be available for applicants sometime in December 2023 (exact date has not been announced yet.)
EFC becomes SAI: The Expected Family Contribution (known to most as "EFC") has been the tool used by financial aid administrators to determine Pell Grant eligibility for students. This tool will be replaced with the Student Aid Index or "SAI" which will expand eligibility for the Pell Grant by removing certain assets from the calculation of a student or parent's ability to contribute to the cost of attendance. It will also remove the number of household members in college as a factor in the calculation.
Whose Info is Required on the FAFSA: Some students will be required to invite certain members of their family as "Contributors" to add info to their FAFSA.
Dependent students will need to provide their biological, adoptive, or step-parents' legal name, birthdate, **Social Security number, and email address to have an email invite sent to each parent, allowing the parent to add their information on the student's application. For dependent students whose biological or adoptive parents are no longer married/together, the parent who provides the most financial support to the student will be the parent whose info is required on the FAFSA. If that parent is remarried, their spouse's info will also be required; the student will need to send an email invite to both parent and stepparent. 

**If the parent does not have a Social Security number, the student can add the parent's mailing address instead so the email invite can still be sent.
Independent students will need to provide their spouse's name, birthdate, Social Security number, and email address to have an email invite sent to their spouse, allowing the spouse to add their information on the student's application.
Each person will need to create their own FSA ID (username and password) to be able to contribute their own information on the FAFSA, but will not be able to view or change another's info.
Federal Tax Information Required: Students (and parents of dependent students) will need to give consent on the FAFSA to have their Federal Tax Information (FTI) transferred from the IRS website into the application. Those who choose to not give their consent (regardless of the reason) will not be eligible for Federal Student Aid (such as the Pell Grant and loans), but may still be eligible for State grants if they are residents. Manually entered tax data will no longer be used to determine a student's eligibility for Federal Student Aid.
Note: Students (and parents of dependent students) who did not file a tax return or did not have income earned for the year in question will still need to give their consent on the FAFSA if they want to be considered for Federal Student Aid.
New Way of Awarding Aid: Federal and State grant aid is currently awarded according to a student's enrollment level each term.
Enrollment levels:
Full-time or 12+ credits = full award
3/4-time or 9-11 credits = 3/4 of award
1/2-time or 6-8 credits = 1/2 of award
1/4-time or 1-5 credits = 1/4 of award
This will be changing with the 2024-25 academic year! 
Federal grants will be awarded according to the student's "enrollment intensity." For example, if 12 credits represents full-time enrollment and the student is enrolled in 7 credits for the term, the student will be awarded 7/12 (or 58%) of their grant aid for that term, whereas previously they would have received only 50% of their grant aid for the term.
The WA Student Achievement Council (WSAC) will be changing how State grants are awarded so that the process aligns with the new Federal method of "enrollment intensity," beginning with the 2024-25 academic year.
Pell for Incarcerated Students: Pell Grant eligibility has been restored for students who are currently incarcerated and enrolled in certain prison education programs which are eligible for Federal Student Aid. Students must fill out and submit the FAFSA (either online or using the paper application designated for incarcerated students), and their Pell award amounts will be limited to their cost of attendance (which includes tuition/fees, books/supplies, and the cost of obtaining a license, certification or a first professional credential.)
Paper FAFSA Forms: Starting with the 2024-25 FAFSA, financial aid administrators will no longer be able to accept paper FAFSA forms from students for the purpose of manually entering the application data into the system for the Department of Education to process. This means students who fill out a paper application will need to mail it to the Department of Education at the address listed on the FAFSA form. Processing times for these mailed applications will be slower than if a student submits their FAFSA online, so we highly encourage applicants to complete the online FAFSA: StudentAid.gov
---
Financial Aid Office Hours & Contact
Fall, Winter, Spring Quarter:
Monday, 9:00AM - 2:00PM
Tuesday - Friday, 9:00AM - 4:00PM
Closed Saturday, Sunday & Holidays
Summer Quarter:
Monday, 9:00AM - 2:00PM
Tuesday - Thursday, 9:00AM - 4:00PM
Closed Friday, Saturday, Sunday & Holidays
Email: financialaid@pencol.edu
Phone: (360) 417-6390
Fax: (360) 417-6395