Peninsula Pre-Three Cooperative (Port Angeles)
A parent-run cooperative preschool affiliated with Peninsula College's Family Life Education Program.
Program Philosophy
The Pre-3 Cooperative is a place for parents, grandparents, and caregivers with young children to come with their child each week for a wide variety of activities led by an experienced Early Childhood Education teacher. Parents join others in a parent discussion with a Parent Education Instructor from Peninsula College. The Peninsula Pre-3 Cooperative has been offering programs to parents of young children on the Peninsula for more than 30 years.
Class Times & Age Groupings
TUESDAY CLASS – 9:30 to 11:00 a.m.:  10 months – 2 years*
WEDNESDAY CLASS – 9:30 to 11:00 a.m.:  18 months – 3 ½ years*
THURSDAY EVENING CLASS – 5:30 to 6:30 p.m.:  10 months – 3 ½ years* (MIXED AGE CLASS)
* Child's age in September
Fees
Registration: $40.00 per year; non-refundable
Tuition:
$115.00 per quarter for morning classes (about 10 -11 weeks)
$90.00 per quarter for evening class (about 10 -11 weeks)
Scholarships are available, please contact the membership coordinator for more information.
Please call to arrange your visit.
Online Forms
Immunization Form and Exemption Certificate
Calendar
Fall Quarter Starts September 14, 2021
Winter Quarter Starts January 11, 2022
Spring Quarter Starts - March 29, 2022
Safety Video
Click here to view the Safety Video
Activities
Activities include:   
Music
Art 
Social Interactions 
Dramatic Play 
Outdoor Play
Teacher
Carly Palacios
Teacher Carly began her teaching career as a teenager working with students with special needs in her local community.  Since then, Carly has taught chess to elementary students, psychology to high school students, and English to students of every age in between.  Carly graduated from Utah State University with a bachelor's degree in secondary education with endorsements in English and Psychology.  Carly has always enjoyed helping students reach their potential and witnessing the 'light bulb' moment when students grasp a difficult concept or skill.  Carly is passionate about literacy and hopes to instill a love of words and reading in all her students.  When she's not teaching or spending time with her family, Carly enjoys reading, knitting, sewing, and crocheting.

Parent Involvement
Along with bringing yourself and your child to class each week, parents are asked to:
Act as a classroom aid, helping the teacher on a rotating basis with other parents.
Attend and participate in parenting education discussion and meetings. 
Participate in and support the fundraising activities of the Co-op.
Parenting Education is available at each session facilitated by an instructor from Peninsula College. Topics include child development, community resources, and other appropriate topics in parenting.
Comment from a Parent in the Pre-3 Cooperative
"My cooperative experience has been nothing but positive. My child and I have made new friends, and it feels great to be a working part of such an important program."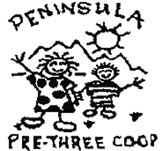 Location:   
First Baptist Church
Northwest Entrance
5th and Laurel
Port Angeles, WA
98362
Across the Street from the Port Angeles Fire Station

Mailing Address:
P.O. Box 876
Port Angeles, WA 98362

For more information:
Membership Coordinator
Phone: (360) 207-5663

Email:
peninsulaprethree@gmail.com