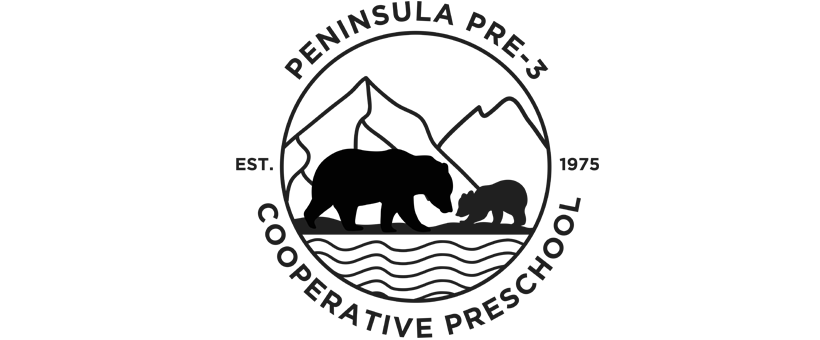 Peninsula Pre-Three Cooperative (Port Angeles)
A parent-run cooperative preschool affiliated with Peninsula College's Family Life Education Program.
Program Philosophy
Peninsula Pre-3 Cooperative is a place for parents, grandparents, and caregivers join their young child(ren) each week for a wide variety of activities led by an experienced Early Childhood Education teacher. Adults join each other with a Parent Education Instructor from Peninsula College to discuss child development and other parenting topics. The Peninsula Pre-3 Cooperative has been offering programs to parents of young children on the Peninsula since 1975.
Class Times & Age Groupings
TUESDAY CLASS – 9:30 to 11:30 a.m.:  10 months – 2 years*
WEDNESDAY CLASS – 9:30 to 11:30 a.m.:  18 months – 3 ½ years*
THURSDAY EVENING CLASS – 5:30 to 7:00 p.m.:  10 months – 3 ½ years*
* Child's age in September
Fees
Registration: $40.00 per year; non-refundable
Tuition:
$125.00 per quarter for morning classes (11 classes)
$100.00 per quarter for evening class (11 classes)
Scholarships are available, please contact the membership coordinator for more information.
Please call to arrange your visit.
Registration and Online Forms
Welcome! Pre-Three Cooperative (Jovial.org)
Immunization Form and Exemption Certificate
Calendar
Winter quarter starts January 10th, 2023
Spring quarter starts March 28th, 2023
Contact us for more information
Safety Video
Activities
Activities include:   
Music
Art 
Social Interactions 
Dramatic Play 
Outdoor Play
Children's Teacher
Kylie Douglas

Teacher Kylie is a certified Elementary Teacher that has recently been staying home with her daughter. She joined the Co-Op with her daughter as a student and ended up joining the team as a teacher in 2022. Kylie has been teaching since 2015. She has taught in Nashville, Sequim and Port Angeles. Kylie's favorite thing about being a teacher is laughing with kids. When Kylie is not in the classroom she is with her family at the park or at home cooking and watching a Disney movie.
Parent Involvement
Along with bringing yourself and your child to class each week, parents are asked to:
Act as a classroom aid, helping the teacher on a rotating basis with other parents.
Attend and participate in parenting education discussion and meetings. 
Participate in and support the fundraising activities of the Co-op.
Parenting Education is facilitated at each session by instructors from Peninsula College. Topics include child development, community resources, and other appropriate topics in parenting. Peninsula College credits are earned.
Peninsula College Instructors
Carrie Sanford

Carrie Sanford is a parent education instructor and the board advisor for the Peninsula Pre-3 Cooperative. Carrie graduated with a BA in Psychology from Whitman College. She's been an educator for over 25 years and with Peninsula College since 2016. Long ago, she was a member of the co-op with her daughter. Carrie maintains that she learns more from her students than she could possibly impart to them. In her down time, she can be found walking her dog, hanging out with her spouse and daughter, reading or writing. 
Wendy Butterworth

Wendy Butterworth is a parent education instructor for the Peninsula Pre-3 Cooperative. Wendy graduated with a BS in Recreation Resource Management from Utah State University. She spent ten years in education with the National Park Service and has been focusing on early childhood education for the last ten years. Wendy spends her time outside of class admiring the coast with her husband, playing with her dog and trying out the latest parenting tricks she has learned on her three children. She is humbled to be on this parenting adventure with her Pre-3 families and grateful for their insights.
---
Comment from a Parent in the Pre-3 Cooperative
"My cooperative experience has been nothing but positive. My child and I have made new friends, and it feels great to be a working part of such an important program."
---
Location:   
First Baptist Church
Northwest Entrance
5th and Laurel
Port Angeles, WA 98362
Main entrance at north side of building off the alley
Mailing Address:
P.O. Box 876
Port Angeles, WA 98362
For more information:
Membership Coordinator
Phone: (360) 207-5663