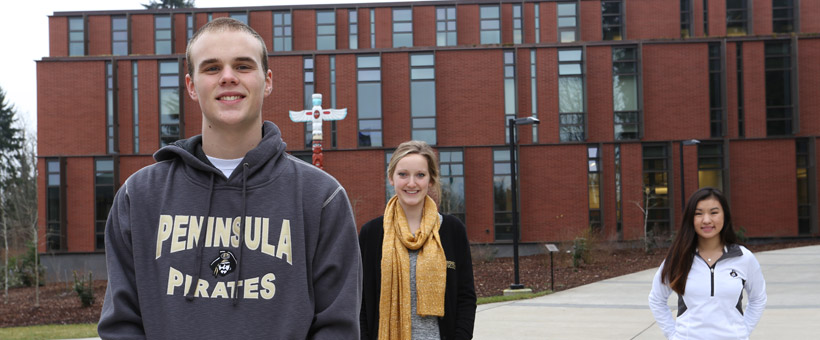 NEW: Evening Classes Now Available!
Evening classes are now for our High School Diploma and GED prep courses! Start any Tuesday in May. Classes are held Tuesday-Thursday from 5:00-8:00pm and cost $25 per quarter. Call (360) 417-6380 for more information, or visit us on the Port Angeles campus Tuesday evenings in Maier Hall, room E148.
---
High School Programs are offered to those students of high school age who wish to earn college credit while still attending high school or who desire a non-traditional high school education, as well as adults who wish to complete a high school diploma.  Following are the programs offered by Peninsula College.
The Running Start Program enables eligible high school students who seek expanded educational challenges to enroll simultaneously in high school and college classes, or solely in college classes, for the purpose of earning credit to be awarded by both their high school district and Peninsula College. It offers junior and senior high school students the opportunity to take college-level courses and earn college credits while completing high school graduation requirements. The Running Start website will give you more information on how to apply and what to expect.
The CTE Dual Credit Program is a dual credit opportunity for high school students. It is a dynamic educational reform movement and process of curriculum structure with a workforce preparation emphasis into which schools can integrate proven educational improvement elements, such as contextual learning. It seeks to meet high academic standards, eliminate duplication of student effort, and provide the best teaching and learning experiences schools can offer to prepare students for the real world of work. The Professional Technical Education Program on the North Olympic Peninsula is a partnership between Peninsula College, area school districts, and local business, labor, and community representatives.
Adults (19 years and older) who did not complete high school may obtain a high school diploma through Peninsula College. This high school diploma meets the graduation requirements of the State of Washington and is issued through Peninsula College. Classes taken at Peninsula College to satisfy high school requirements may also be applied to a college degree. An individual (21 years or older) who completes an associate degree (AA, AS, AAS, or AAS-T) may now request a state high school diploma from the College upon written request.
The HS+ program is designed for adult learners seeking a high school diploma. Students enroll in high school content courses especially designed to prepare them for college and the workplace, upon the completion of which they are awarded high school credits. Unlike the Adult High School Diploma, the courses offered in the HS+ program are not college classes and credit can only be used toward a high school diploma. Courses are available online and at all Peninsula College sites. The HS+ diploma meets the graduation requirements of the State of Washington and is issued through Peninsula College. There is a program fee of $25 per quarter and financial aid is available. Please visit the HS+ site for more information. 
Upward Bound provides fundamental support to participants in their preparation for college entrance. The program provides opportunities for participants to succeed in their precollege performance and ultimately in their higher education pursuits. Upward Bound serves high school students from low-income families and high school students from families in which neither parent holds a bachelor's degree. The goal of Upward Bound is to increase the rate at which participants complete secondary education and enroll in and graduate from institutions of postsecondary education.