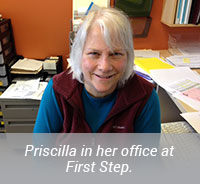 ---
2009 was a turning point for Priscilla Schaefer. Laid off from a company where she had worked for nearly 20 years, she found herself at a crossroads. The job market was tough, she says, and even though she had a lot of business experience, her lack of a degree was holding her back.
When she was offered an opportunity for retraining, Peninsula College was the logical choice: It was local and it would allow her to finish her AA degree and then earn a Bachelor's degree without having to relocate, a big plus since moving wasn't a great option for her. 
Once she was in school, she discovered another benefit: "It was a big advantage to have small class sizes and easy access to instructors and resources," she says. "I think the class size is incredibly conducive to learning, and there are many high caliber instructors.
"I am, by nature, a student and learner, so being able to be in an ideal learning situation was great," Schaefer adds. 
She also appreciated the opportunities she had to interact with her instructors as she worked on both of her degrees. "I made it a point to meet the vast majority of my instructors in person as most of my classes in the [Bachelor of Applied Management] program were online," she says.
But there was another advantage to her studies that Schaefer hadn't anticipated, and it would change her career direction. As part of her Peninsula College Bachelor's of Applied Management degree, she had to complete two 250-hour internships. She chose the First Step Family Support Center and was working there as an intern when the fiscal manager's job opened. 
"I was initially asked to take the position as an interim job, but was soon asked to stay on permanently. Though I had been on the board of directors for First Step, if I had not been working toward my degree I do not think I would have been considered for the position," she says. 
But she was, and she soon found herself working full-time at First Step, first as the interim fiscal manager, and then as the permanent one, all while also going to school full-time. It was a juggling act she could not have imagined when she first started her bachelor's program at Peninsula College, but today she can look back on that very busy time and know it was all worth it.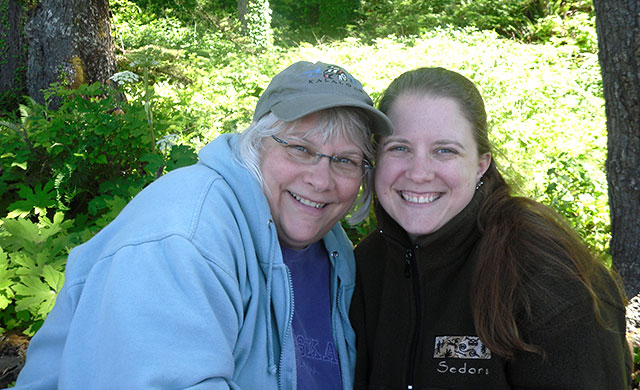 Priscilla and her daughter, Jeannie, after a walk at Rialto Beach.