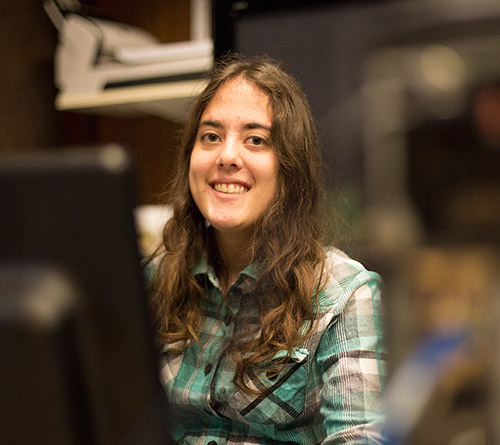 Emily Heike's presence on the Peninsula College (PC) campus summer quarter caused a few heads to turn. Interning for IT Director Steve Baxter the 20-year-old with a bachelor's degree could be mistaken for a student when answering service calls. 
Achieving milestones at a young age is nothing new to the Olympic Peninsula native who was raised near the Dungeness River. Growing up with a tech savvy Dad helped cultivate her interest in technology. 
In the fall of 2011 she began Running Start at PC as a high school junior. She graduated in 2013 from Sequim High School with her diploma, and an AAS degree from PC. She credits Multimedia Communications Professor, Renee Brock- Richmond, with giving her a lot of good advice during her time at the college. 
"She pointed me in the right direction, and it was cool to have a woman in an IT program, because there aren't too many," she said.
 With her prerequisites out of the way Heike headed east to Central Washington University (CWU) in Ellensburg where she went on to claim a Bachelor of Science in Information Technology and Administrative Management with a specialization in web and database work. Having become familiar with the quarter system at PC made for a smooth transition to the university in terms of time management, Heike said. Becoming well-versed in Canvas at PC also paid off at CWU where many of her classes were held online.   While at CWU she found work in the Continuing Education department. 
Following graduation in June of 2015 Heike was invited to intern with Boeing, having received a scholarship from the company while at CWU. Instead she chose to return to the Peninsula, a place that is near and dear to her heart. 
"I have done a fair amount of traveling in my lifetime, but haven't found anywhere like the Peninsula," she said. "I like that we are encompassed by nature out here; surrounded by the Strait of Juan de Fuca, the Puget Sound, and on the far west, the Pacific. I remember Steve telling me in my first week (at PC) that sometimes deer come up to his office window, and he knows people who would pay a lot of money for that." She made internship inquiries at Olympic Medical Center and with the Jamestown S'Klallam Tribe, before being offered a summer stint at the college. 
Heike said she enjoys the troubleshooting and design side of IT work, and from an Administrative Management perspective, it's fun to have "a foot in everything," and oversee the leadership side of things.   Her duties at PC included building computer classrooms, help desk calls, computer administrative work, search engine optimization and more. 
She is currently considering an online master's program through CWU that would allow her to have her graduate degree by the age of 21, after which, she would like to return to the peninsula.
Heike said that PC's Running Start program works for anyone who likes to stay focused and on track to achieve their goals. 
"I thought of it like, 'this is only two years of my life, and I can graduate with a bachelor's degree at 20," she said. "It's completely doable for anyone who has the drive."