Peninsula College Alumnus Gabriel "Gabe" Galanda was honored with a prestigious "Difference Maker Award" by the American Bar Association at the Fall Leadership Meeting and National Solo & Small Firm Conference in Seattle on Friday, October 12.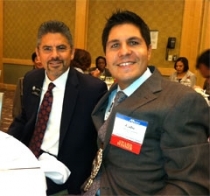 A 1995 graduate of Peninsula College and a Port Angeles native, Galanda was honored for his 12 years of bar leadership and pro bono service in helping recruit more Native American lawyers to the profession in the Pacific Northwest through scholarship fundraising; promoting mainstream legal understanding of Indian legal issues through state bar examination in Washington and elsewhere; and leading the effort to restore the religious freedoms of Native American prisoners in Washington State.
An enrolled member of the Round Valley Indian Tribes of California, Galanda is a founding Partner of Galanda Broadman, PLLC, an American Indian-owned law firm with offices in Seattle and Bend, Oregon. The firm is dedicated to advancing tribal legal rights and Indian business interests.
Galanda's practice focuses on complex, multiparty litigation and crisis management and economic diversification and tax strategy. He represents tribal governments and businesses and Indian citizens.  He also serves as a tribal appeals court and administrative law judge and mediates and arbitrates Indian Country-related disputes.
Galanda is the author of a much-discussed article, "Off-Color State Judicial Elections: Voting and Race" in Washington State (Bar Bulletin; Crosscut).  He currently sits on the National Native American Bar Association (NNABA) Board of Directors, chairing the group's "Include Indian Law on State Bar Exams" Initiative, and co-chairing its "Increase Natives and Tribal Court Judges in the Judiciary" Initiative.
Selected to The Best Lawyers in America from 2007 to 2013, Gabe was also named as one of the best lawyers in Washington State by the Puget Sound Business Journal in 2011.  He has also been named to the Journal's "40 Under 40" list, as well as to the National Center for American Indian Enterprise Development's "Native American 40 Under 40" list in recognition of his status as an emerging leader in the legal industry.
Washington Law & Politics/Super Lawyers magazine named Gabe a "Rising Star" for 10 of the last 12 years. In 2003, he was named one of Washington's four Leading Edge Litigators by Washington Law & Politics.  In 2004, he was awarded both the Washington State Bar Association Young Lawyers Division's Outstanding Young Lawyer Award, and the Northwest Indian Bar Association's Native Justice Award.
As a student at Peninsula College, Galanda was elected Associate Student Body President.  He received his BA in English Literature from Western Washington University in 1997, and his J.D. from the James E. Rogers College of Law at the University of Arizona in Tucson, in 2000.  At Arizona, he served as President of the Native American Law Students Association.
---
Learn more about degrees & programs at Peninsula College
Degrees Offered at PC:
www.pencol.edu/programs/degrees 
Professional / Technical Programs:
www.pencol.edu/proftech/
You'll be glad you did.