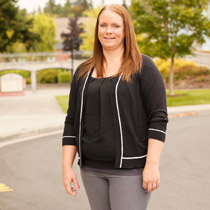 An academic evolution has made Jennifer Linde a bookkeeper in demand
If you need to talk to Jennifer Linde while she's on the Peninsula College campus, you'll have to make it quick. A graduate of PC's associates and bachelor's degree programs, and recent master's degree recipient, Linde's success has made her a woman in high demand. In addition to several bookkeeping jobs, she also co-owns a small business with her husband while raising her four children, ages 10–15.
Life wasn't always this organized or focused for Linde, who dropped out of high school two months into her sophomore year. For the next 10 years she followed what she called the wrong path, which led to life challenges and losses. With nothing but the clothes on her back, she entered a program at Oxford House and later received her GED from PC in 2008. From there she chased down her AA degree, following it with a Bachelor of Applied Science in Applied Management (BAS) degree at PC. With that momentum she completed her master's degree in accounting at American Public University in October 2015 and traveled to Washington DC to walk with her graduating class this past June.
Looking at her academic record, it would be easy to gloss over the challenges that she faced in the process of these pursuits. Linde said she might not have been able to complete her AA degree due to the pressures of single parenthood until her husband, Anthony, was able to provide the relief and support she needed to focus on her studies. He engaged with her children and stepped in and assumed many of the duties that could have derailed her education. She also found support through Administrative Office Systems Instructor Sherry Sparrowk, who helped her learn Microsoft Office Systems.
"She was engaging and really believed in me," Linde said. "She just kept saying, 'You can do this,' and kept pushing me along."
Following her work study internship with PC's Community and Business Education (CBE) Program, the Peninsula College Foundation was looking for a bookkeeper and Linde was recommended by Director of CBE, Linty Hopie, as a good fit for the role. 
As she neared completion of her BAS degree, she was hired for a paid internship in 2013 by the Economic Development Corporation (EDC) and began working there part time.  Upon graduation she was hired to work there full time as the Director of Operations and Finance. Meanwhile, she and her husband opened Anthony's Car Care, an auto detailing business, where she maintains the books. 
Today, in addition to her work at the EDC, PC Foundation, and her small business, Linde also works as a bookkeeper for a local homeowners association. In her free time, she volunteers as the Port Angeles Eagles Board Treasurer and sits on the United Way Board.
Linde admits there is a possibility of a Ph.D in her future, and a CPA license, but she and her family are taking a break from homework for now. 
With their team approach to success, Linde and Anthony saw their financial situation improve as Jennifer began receiving jobs, and they embarked on their business. They were able to leave subsidized housing as their situation improved and are currently renting with plans to own a home.
 "We have become fully self-sufficient," she said, "and my education is why."