Even for die-hard soccer fans, the college soccer career of Miguel Gonzalez is mind blowing. He has set records that few will be able to match, both at Peninsula College and now at Seattle University, where he is currently a student on a soccer scholarship.
As a Peninsula College Pirate, Miguel set single-season and career scoring records, collecting 34 goals during the 2011 season and finishing his two-year career with 49 goals. He was named NWAACC West Division MVP in both 2010 and 2011.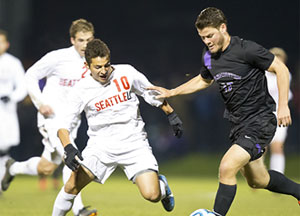 Now, at Seattle University, Miguel is continuing to rack up the honors. In 2013, he was named to the College Soccer News National Team of the Week for the week of November 18-24, to the WAC All-Tournament team, as WAC Offensive Player of the Year and First Team All-Conference, and also named WAC Offensive Player of the Week for the week of October 14-20. In 2012, in his debut year as a Seattle University player, Miguel played in 17 matches, scored four goals, provided one assist and tallied 50 shots with 13 of them on goal.
Photo credit: Miguel at the NCAA Tournament this past season, playing against the University of Washington in the Second Round of the NCAA Tournament.  Photo by Eric Badeau.
Star Performer in the Classroom, Too
For most, success like this on the field would be enough, but not for Miguel. Scholastically, he is also in top form. At Peninsula College, he maintained a 3.7 GPA, and at Seattle University he has more than a 3.0 GPA as a liberal studies major, which he plans to complete this spring. And then? Many feel a draft by the pros is more than likely in his future, and Miguel, himself, hopes to play professional soccer.
But how did such a storied soccer and college career actually start? The beginnings go all the way back to when Miguel was just a young boy. An immigrant from the state of Michoacan in southwest Mexico, Miguel moved to the Pacific Northwest with three brothers, two sisters and his mother when he was eight. The family settled in Yelm, and it was there that his interest in soccer really took root.

"Soccer is big in the Mexican culture," he says. "I grew up watching it on TV almost every weekend, just dreaming of one day being one of those players I saw on television." That and watching his older brother's play clinched it for Miguel. "I just loved playing the sport. It was fun and exciting, and I got to meet great people. I was also pretty good at it," he says.
Setting the Path in High School
Miguel's soccer talents quickly became apparent when he entered Yelm High School, where he was a four-year starter for the Tornadoes. A two-time First Team All-State selection, he helped the varsity team reach the district playoffs in 2007, 2009, and 2010. In 2008, he was named sophomore athlete of the year, and received the team's most inspirational award in 2009.
Miguel says that after high school he had no real plans for playing anywhere. "I had struggled in high school because I thought that education was just not for me. But luckily I got a call from Coach Andrew Chapman who wanted me to come to Peninsula College and play soccer. After talking to my family, we agreed it was the best option. It was either that or staying home to work in order to help my mom and family out."
He Was a Player We Wanted
PC Soccer Coach Andrew Chapman says, "Miguel is a great young man who has tremendous drive to be better.  We knew right away when we watched him in high school he was a player we wanted, not only for his talent on the field but because of his personality and respect for other people.  At one point Miguel was going to drop out of college because he didn't think there would be much future for him, but luckily he decided not to.  Still, it wasn't easy. On weekends Miguel would go home to help his family and earn some money, sometimes even working at a farm cutting heads off of chickens. It was hard, but he really stuck with it, and his determination is paying off in big dividends for him. We're proud of all his accomplishments and to have been a part of his success."
Bicycle kick by Miguel is inspiring even for non-athletes: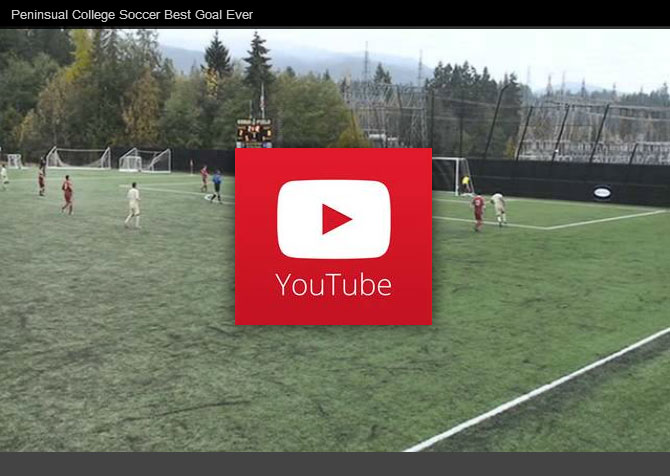 Knowing that money was tight for Miguel and that he would need financial help to finish college, the Peninsula College Foundation awarded him the E. John and Helen Maier President's Scholarship in 2011-12. This scholarship specifically supports one of five goals established by the Washington State Board for Community and Technical Colleges (SBCTC) for college students─that special consideration be given to students from a diverse background. That goal states, in part, that "community and technical college programs will serve as the key point of entry into higher education for tens of thousands of people of color and new immigrants to Washington State."
With the E. John and Helen Maier President's Scholarship in hand, Miguel was able to finish his degree at Peninsula College and realize that he could be both an athlete and a scholar.
"PC allowed me to grow as both a soccer player and a student," Miguel says. "Going there made me see that I could get the educational part done, too, if I set my mind to it."
Excellence in All Dimensions
PC Economics Professor Dr. Daniel Underwood is one of the professors who believed in Miguel and knew he could make it in the classroom as well as the soccer field. "While Miguel was known to the college community as an outstanding athlete on the field, I knew him as an outstanding student in the classroom. He was attentive in class, always prepared, and exhibited an enthusiasm for learning.  I will always remember Miguel as living testament to what we should all aspire to in life, and that is excellence in all its dimensions," Underwood says.
Miguel is quick to give credit to those who helped him succeed at Peninsula College. "As a player, the great coaching and teammates I had helped me gain the confidence and skills that helped me at the next level. PC coaches, faculty and staff were extremely helpful in helping me make the transition from PC to Seattle U. Being surrounded by great people who cared about me and wanted the best for me was great!" 
Rick Ross, Director of Athletics and Student Services at Peninsula College, was one of those: "Miguel is one of the most exciting athletes we've ever had, in any sport. He is so skilled, and so explosive. He made big things happen in big games and helped us win a championship. He went on to be a star at the NCAA Division I level as well, and I fully expect Miguel to have a professional soccer career.
A Cinderella Story
"Perhaps what makes him so remarkable is that he represents a Cinderella story. He comes from a small town in Western Washington, he came to Peninsula College with a lack of academic preparation, he made an immediate impact on the NWAACC and earned his Associate of Arts Degree at an honors level, and he's continuing to have tremendous success in both the athletic and academic arenas at Seattle University. He's also a great role model for young players. He works hard, he's a team player and he's humble. He was a model athlete at Peninsula and will very likely land in our Hall of Fame."
---
Want to be a Pirate?
If you're interested in Athletics at Peninsula College, contact Athletic Director Rick Ross at (360) 417-6533 or rross@pencol.edu, or learn more at http://athletics.pencol.edu.
---
Links: