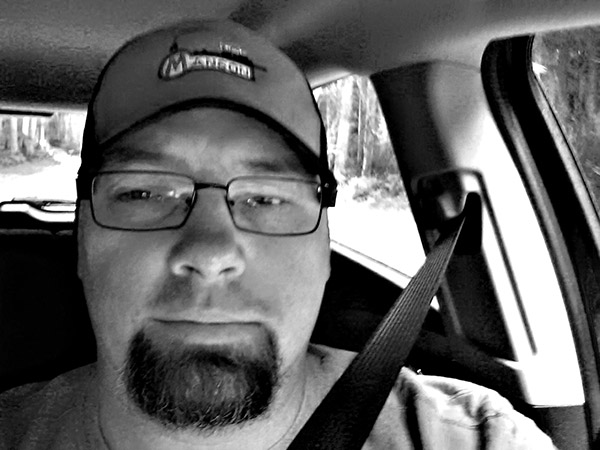 Redemption Through Welding
If listening to Harley Bullington speak gives you the sense he is teeming with gratitude, you may be onto something.
"I consider myself very lucky. I should be in jail for the rest of my life, but instead I'm making $50 to $60 an hour doing what I love," he said.
On a brilliant spring day, Harley stopped by the Peninsula College welding shop to discuss how his time in the school's welding program served as a springboard for his career as a welder with the Local 196 Pile Drivers Union. Tenacity and drive have sustained his success in the field, the gratitude comes from seeing both sides of the coin.
For a good share of his life, Harley was behind bars. His first exposure to formal discipline was a trip to boy's camp in Amarillo Texas when he was 12. One of four kids belonging to a single mother, Harley described himself as a "handful" growing up. He went to a juvenile facility at 16 for aggravated assault, to jail at 18 for check fraud and driving with a suspended license. Unlawful possession of a handgun, car theft, felony eluding police and possession of a controlled substance earned him his first trip to prison in 2001. This same scenario repeated itself a couple times afterward.
"Flash forward to 2007: I'm in prison for the third time with a bunch of lifers telling me to do something with my life or I'd be sitting there with them for the rest of mine," he said. "They asked me questions like 'what can you do?' and 'what have you done?' My answer was not much." Up to that point he'd been a career criminal with only day labor jobs, lasting a week or two, on his resume.
It was during those discussions that Harley remembered his first welding experience. A friend of his had promised to teach him how to weld and Harley had pestered him until he made good on the promise.
"I fell in love at first strike on his little Miller 110 welder," he said.
A counselor at Clallam Bay Correctional Center met with Harley just before his release in 2008, as part of a program run by the Department of Corrections to help maximum security prisoners reintegrate into society.
He wrote a letter to FAFSA telling them that he was in prison and outlining what he wanted to do with his life. Once he was accepted, he sent the same letter to every college in Washington State that had a welding program. He was admitted to three colleges. He was accepted by the PC welding program and discovered that a friend he'd met shortly after moving to Port Angeles was in the welding program also. This friend was a second year student who served as a mentor. 
"Ever walk in your front door as a kid and get that smell of dinner on the stove or cookies in the oven?" Well replace the dinner and cookies with hot molten steel, welding flux burning, and the pitch perfect sound of the rod wire burning at just the right temperature and speed. Home." he said. "My first impression of the program was, 'OK, I belong here.' It felt like home."
In addition to his classmate, Harley named PC welding instructors Jeramie O'Dell and Eoin Doherty as two of his greatest influences. 
"Jeramie has a great skill for seeing who's got (welding talent) naturally, who's gonna have to work their ass off for it, and who's just there to hobby weld," he said. "I fell under the second category. I wanted to make this my career for the rest of my life." O'Dell and Doherty spent a lot of time steering him in the right direction, while letting him find his own welding style. Though time in the classroom was structured, Harley said he always managed to have fun.
He also credits Green Building Instructor, Pat Nickerson, with cultivating an interest and understanding of math within him. He sought out Pat when he needed guidance saying he spoke in a language that he understood.
"With those three guys on my side how could I lose?" Harley asked. "The idea isn't that when things don't work out the way we want that we have failed. It's that we eliminated a way that doesn't work and found a way that does." As with any discipline welding comes with general fundamentals.  But what might work for one welder may not work for another.
"Jeramie and Eoin take each welder on an individual basis and reach them in a way they understand," he said.
When he graduated from PC he took a job with a local manufacturer. The work was good, but he kept an eye open for other opportunities.
He applied to the Carpenter's Union and was hired a year later. During that time he called several times a month to see if there was work. He said that kind of tenacity has helped keep him in all the work he can handle. Not that it's always easy.
"My job is rough and I give 100 percent," he said. "I'm wet, hot, cold, sweaty, I've been burned- I'm busting my butt, but I love it." Harley shows up for work an hour early, and stays late, and does what he's told. "Always remain teachable," he told his audience.  For most of the year he travels with a trailer to various job sites, seeing his family on the weekends, then taking three months off in the summer.
Now in the sixth of eight periods towards getting his journeymen's license, Harley encourages everyone to be proactive in their on the job learning. 
"Your coworkers are there to help you," he said. "I'm part of something bigger than myself."
Though he is not particularly proud of his past, Harley said he is willing to share his story to show others that, no matter what their background, they can find success. He is now happily married with two children and owns his own home.
'I love life, my family, my friends and welding. In that order," he said. "I'm busy living."