When Peninsula College Composites instructor Maitland Peet opened his morning email recently, he had a surprise. In it was a message from a former student who wrote: "I wanted to update you on the success of the classes because I feel it has been profound and changed my life completely."
The sender of the email message was Rob (Jerald) Hancock, who is now working as a composite fabricator at Boeing in Seattle.
"I have never made so much money in my life, and in six years I will be making an unfathomable amount," Rob's email continued. "The work is very easy on the body, and I feel so lucky to be working for them. The composite classes are the only college classes I've ever taken, and I have only them to thank."
A Newspaper Ad Started it All
If it hadn't been for a Peninsula College newspaper ad in the Peninsula Daily News in 2011, Rob might still be working in the fast food industry. The ad, literally, changed his life.
When Rob saw the ad offering free composites classes, he wasn't sure what to do next. But figuring he had nothing to lose and a lot to gain, he called the number that was listed in the advertisement and was soon connected to some very helpful advisors in the Peninsula College Composites Program.
Rob, as it turned out, was eligible for the tuition-free composites classes that were being offered by Peninsula College as part of a three-year grant from the U.S. Department of Labor and Education known as "Air Washington". The grant's purpose was to expand training in Composites Technology focused on the Aerospace Industry. The Air Washington grant involves a statewide consortium of employers and training partners, which includes 14 colleges, two aerospace companies, a Center of Excellence and an apprenticeship committee. 
Grant Leads to Program Development
Peninsula College's share of the three-year, $20 million grant was $670,000 and was used to enhance its then-new composites training program, and further support the growing composites industry on the Peninsula.
Just days after he had seen the ad, Rob was enrolled in Peninsula College's first grant-funded five-week training sequence and began taking classes in January 2012.  "I wanted to better my life," Rob says. "After I thought about it, I saw a wonderful opportunity and decided to go for it."
He was hired at Angeles Composite Technologies Inc. (ACTI) shortly after he completed the course, but he didn't stop there. He also enrolled in the advanced composites courses in 2013 and kept working at ACTI. Within a year-and-a-half of first starting at ACTI, he was hired by Boeing!
Peninsula College Helped Make "A Very Bright Future"
"I'm confident the classes at Peninsula College are the only reason I am where I am today. I would still be working fast food if not for them. Now I have a very bright future" Rob says.
"The classes taught me how to work with composite materials and utilize composite terminology, as well as increasing my math, interview and resume-building skills. I even made my own resume to get the job!
"The second class plus my experience at ACTI is the only reason I was offered a job at Boeing."
"The classes that Rob took were part of what is now the Advanced Manufacturing/Composites Program," says Peet.  "This is one of several programs at the college that operate under the IBEST model.  IBEST classes bring important math and verbal skills training right into the curriculum, contextualized for the specific trade or profession.   So while Rob got hands-on experience in composite lay-up and fabrication, he was also able to brush up on the math and writing skills that would be required in his profession." 
Instructors Were Key
Reflecting on his time at Peninsula College, Rob says: "I learned a lot, and now I have an amazing job. I couldn't be happier and more thankful to PC and the opportunities I've been given."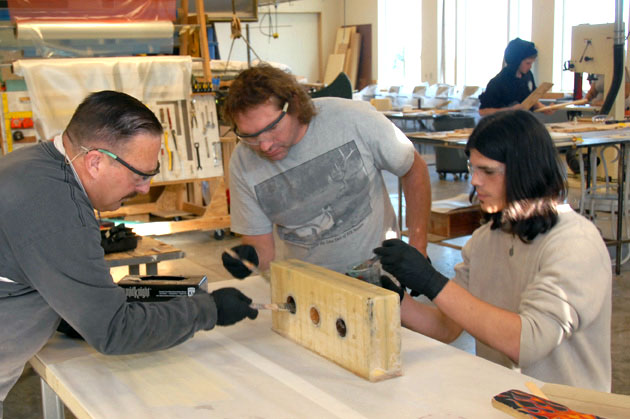 Hands-on learning in real world scenarios taking place at the Peninsula College Advanced Manufacturing - Composites Technology lab.
Rob credits the instructors for making it possible for him. After dropping out of high school in the tenth grade, he wasn't confident he was ready for any college classes, but he quickly discovered that, with a little help and encouragement, he was!
"The instructors were able to give me the one-on-one attention I needed and were very understanding. Even though the education levels of everyone in the class were so diverse, the instructors really did a great job giving us the attention we needed at our own personal level."
Rob also has some advice for prospective students: "Go for it and give PC a try. I am very grateful for PC and the opportunities I've been given."
---
LEARN MORE!
Visit the program webpage:  Advanced Manufacturing - Composites Technology
Contact a Program Coordinator with questions:
Maitland Peet
(360) 417-6336
mpeet@pencol.edu