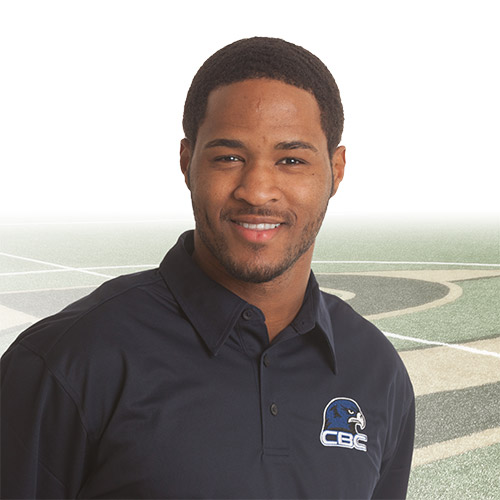 Alum Omar Anderson Brings Lessons from PC to New Coaching Role:
Soccer, and life for that matter, are about being part of something bigger than yourself according to Peninsula College grad Omar Anderson. It was a lesson he picked up while playing and working at PC that he hopes he can infuse into his own players, as the new head soccer coach for the women's team at Columbia Basin College (CBC) in Pasco. 
Born in Kingston, Jamaica Anderson had dreams of becoming an accountant or math teacher when he grew up.
"I had an aunt who was a very established and respected accountant in Jamaica," he said of the reasoning behind his childhood goals. "I love math. It is one of my most favorite subjects. I love anything to do with it." 
Eventually he moved with his family to Anchorage, Alaska where his maternal grandmother lived. While there, he and several of his friends were recruited to play for PC.
"My teammates were a blast and the reason I went (to PC) in the first place," he said. Once former PC men's soccer coach, Andrew Chapman got ahold of him there was no going back.
"Everyone on the team is somewhat displaced geographically and you end up creating a family-type bond," he said of living in Port Angeles. "I was what we call in Jamaica 'fresh off the boat'. The transition to collegiate soccer was new to me; to play a game that I enjoy so much in a more formal setting."
Under the leadership of Chapman, Kanyon Anderson and Tim Tucker, Anderson said it was clear to all of the players early on that they would be shooting for the same objective: That they would become part of something bigger than themselves. "And it pulls you in," he said of the team mentality.
Anderson feels his future as a coach was decided for him during his PC career. After completing his two years on the men's soccer team as a forward, he went to work as an assistant coach for the PC men's and women's soccer teams in 2010 and stayed on for five years in that capacity. During that time he contributed to five NWAC championships and seven West Division titles.
 "It is not often that as a coach you get to work with a player that has as much of an impact on your life as you hopefully have had on theirs," Tucker said. "Omar did not always have the biggest impact on the field, but he has always had a big impact on his team, the program and the people around him." Adding that, as a player Anderson brought a positive attitude and strong work ethic with him to the field every day.
To prove just how infectious his attitude is, Tucker said Anderson had only been in the Tri-cities for one week when former Port Angeles residents drove down from Moses Lake and Spokane to buy him dinner, former players' parents put him up at their houses, former players offered to move to town and help be his assistant coach and even Chapman offered to come help him run his first tryouts.   
"Not a day goes by that I don't run into some random person in the community that asks me how he is doing at his new job," Tucker said.
 "When I first met Omar he was an impulsive 18 year old," PC Women's Soccer Coach Kanyon Anderson said. "It is awesome to see how he has grown and it is great to see another Peninsula College athlete making the NWAC better."
Last summer he was recruited by Southern Oregon University to help start up their first ever men's soccer program. During that time he was contacted by CBC to interview for their women's head coaching position. "I wanted to take a chance, and felt I was ready," he said.
When asked what he thinks he will bring from PC to his work at CBC he replied, "That is something I think about 24/7. My tutelage under Chapman, Anderson and Tucker. They were really great mentors. Being with those three guys showed me what it takes to create an elite program. You must continually give back.  That means recruiting, community involvement, fundraising, etc. I want to emulate what I learned at PC as far as core values."
"Columbia Basin is lucky to get Coach Mar and we are lucky to have him out their representing what it means to be a Pirate graduate," Tucker said.
 "I love it here," Anderson says of life at CBC. "but it's not about me. I have a group of ladies who are counting on me to reach their academic and athletic goals. These two years are the culmination of a lot of athletes' careers, and we have the opportunity to create a lasting relationship with them." 
No doubt those relationships will begin with a conversation about becoming part of something bigger than themselves.