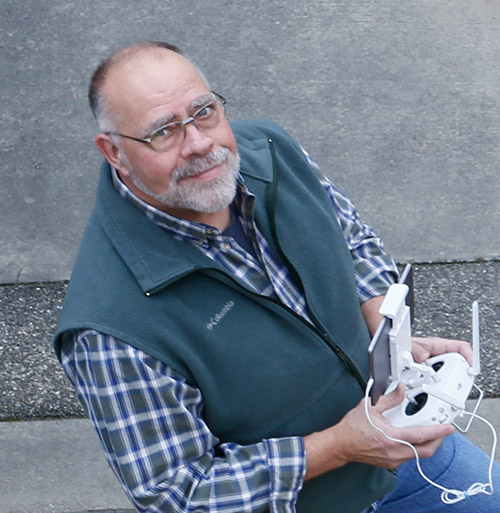 Career change leads to new horizons:
Look! Up in the sky! It's a bird! It's a plane! Wait. Nope, just Peninsula College alum Chris Enges out flying his drone above a field of soggy sheep on the Key Peninsula. 
The Carlsborg resident was recently asked to put together a short documentary film on the state of the niche wool industry in the Pacific Northwest. An Olympia cooperative development company hired him to create a short video for the PNW Fiber Web Cooperative.
"I love filming sheep in the rain!" Enges enthused during a break in shooting. "Just when I think (work) is going to slow down for winter I've been busier than when I first started my business!"
Even working as a heavy equipment operator for Clallam County Road Department Enges was an artist, taking time to capture images of the North Olympic Peninsula and particularly Olympic National Park. In addition to his full time job, he worked as a semi-professional photographer with photos in galleries across Clallam County, and shot images for wine bottle labels for Olympic Cellars Winery. He retired early as the road maintenance supervisor of the Sequim district to pursue an associate of arts degree in multimedia communications at PC.
Enges worked in his position with the county for eight years before deciding to pursue a different course at the age of 60, with help from PC's Veterans Services liaison, Terry Smith.  Through the now defunct Veterans Retraining Assistance Program (VRAP), veterans received funds for one year of occupational retraining.
"Terry Smith really guided me along," Enges said. "He is a super dude for veterans. There are a lot of vets out there who are really hurting and just need a little help and guidance."  
He describes his return to school as a positive and eye opening experience. 
"I had a blast because I was doing something I loved," he said, crediting several instructors with creating successful learning environments. 
"Helen Lovejoy is such a sweetheart and was so helpful. I had her for English and I really enjoyed her class," Enges said. He also spoke highly of Multimedia Communications Instructor Marina Shipova, calling her a brilliant lady and a wealth of information. 
"She knows the business really well, as she worked commercially before teaching and gives her class real-world experience," he said.  
Enges created a short film for PC's 2014 commencement called Journey of Accomplishment using digital photography, videography and editing. He volunteered to create it as a class project for Renne Brock-Richmond's advanced videography class. He speaks highly of Brock-Richmond's impact on his new career, including her help with his current fiber arts filming gig. 
"Renne is a mentor and a real friend to me even outside of school," he said. "She was instrumental in getting me the (fiber arts filming) work." 
Farther along on his academic journey, with the help of veteran Jake Fish of the Fleet Reserve, he was able to file for the Veterans Retraining and Education Program, Chapter 31, due to his service connected disability and started a VA business course in 2014. He presented a business plan to the VA for Spirit Vision films a year later, was approved, and received a grant, funding his business LLC license and insurance. Through the grant he also received a Canon C 100, Mark 2 Cinema camera, and an M4800 DELL workstation laptop, along with Adobe Creative Suite software. While he waited for those items to arrive he decided to get involved in aerial photography. 
A lot goes into the venture. First one must receive approval from the FAA through the Section 33 exemption process. Flying a drone is a lot like flying a small airplane. The operator must get an N number and register the drone as an aircraft. There are a lot of restrictions and one must have a recreational, sport, or private pilot's license to fly them. Operators are also required to have insurance to cover damages to others' property. Enges is one of the few currently approved by the FAA to fly drones commercially on the North Olympic Peninsula.
While at PC, Enges made the president's list each quarter. 
Now, at age 63, one math class stands between him and his diploma. Just five credits shy of receiving his AAS, he says he plans to return to finish.   
"I'd tell other veterans, find something that you love to do, get a hold of Terry to make it a reality, and just do it," Enges said. "I'm really excited about the future. PC is a really cool place to be and has so much to offer a person of any age. It made me feel young and gave me a whole new perspective on life."
---
To view Chris Enges' work visit: spiritvisionfilms.com
For more information on veteran's benefits contact Terry Smith at tsmith@pencol.edu.