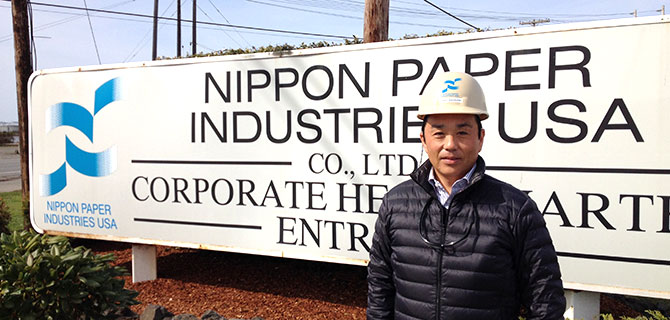 When Yoshifumi (Chris) Nagaura traveled from his native Japan to be a Rotary Exchange Student in New York state during his senior year of high school, he couldn't have known that one day he would be the President of Nippon Paper Industries USA Co., Ltd. in Port Angeles, Washington. He also couldn't have known that his first acquaintance with Port Angeles would be as a student attending Peninsula College, or that he would become so enamored with the Pacific Northwest lifestyle that he would want to live here. But, as we all know, life often takes fateful twists and turns when we least expect it.
---
"After I finished my exchange year in New York, I gained the desire to finish school in America," Nagaura told a reporter from The Buccaneer, Peninsula College's student newspaper. That was in 1988. A year later, in 1989, Nagaura received his Associate of Arts degree from Peninsula College after having accumulated an enviable record of success: he was the first international student to be appointed as a Resident Assistant in the college dormitory and was also named intramural athlete of the year for 1988-1989. His athletic record included three intramural championships, bowling and free-throw shooting titles, playing for the intramural champion Home Boys in basketball, and participating in tennis and volleyball.
Nagaura says Peninsula College had what he was looking for: An Associate of Arts program, a small-class environment, an on-campus dormitory and a location in the beautiful surroundings of the Pacific Northwest.
---
"PC offered much more opportunity for face-to-face communication with one's professor/instructor," he adds. "The small class environment gave me a much greater opportunity to ask questions and participate in discussions. Also, PC had a friendly atmosphere, and students (both American and international) felt at home and comfortable. Because the campus was small, many of the students knew each other and often became friends."
Looking back, Nagaura credits Peninsula College with helping him to get started in building his academic career in this country. After finishing his Associate of Arts degree, he transferred to Central Washington University, where he earned a Bachelor of Science in Business Administration.
This was followed by a move to Vancouver, BC, Canada, where he discovered a lifestyle very similar to the one he had enjoyed in Port Angeles, He lived in Vancouver for 13 years on two different occasions before moving back to Port Angeles, the place where he had started his college studies.
"I would highly recommend Peninsula College to others, especially to international students who want to start working toward four-year or higher university degrees in the United States," Nagaura says. "PC is an excellent place to start one's first two years of college or university degree. Unlike large universities where you could almost always find yourself in lecture halls with many other students, at PC you'll rarely be in classes of more than 30 students. Large universities can be very alienating places. It's easy to feel that no one cares about you there. At PC, you find your place and you enjoy close friendships with other students."
Nagaura recently had the opportunity to revisit Peninsula College and walk around the campus. "I was impressed by its many new beautiful buildings and facilities, but I was more impressed to discover that there still is a very friendly atmosphere when I walked in the Pirate Union Building during lunch time. The tradition continues at PC!" 

Learn more about Port Angeles' very own Nippon Paper Industries Co., Ltd..