Crescent Cooperative Preschool Program
A parent-run cooperative preschool affiliated with Peninsula College's Family Life Education Program.
Program Philosophy
The Crescent Cooperative Preschool provides an environment in which children are encouraged to grow socially, emotionally, physically, and intellectually. The school sets the stage and provides the material for children to learn through discovery, play, and experimentation. The belief is that the experience of doing is more important than that of the finished product. We consider the school to be a place where children can develop independence and self confidence while socializing with other children their own age.
We believe the preschool should be a cheerful place, providing enough space with suitable equipment for young children to meet their individual needs. The program follows a flexible routine and is unhurried. The teacher works with the children in a group as well as one-on-one.
Crescent Cooperative Preschool contracts with Crescent School District to provide classroom involvement for children three to five years of age with special needs.
Class Times
Preschool: Children attend class 2-4 days a week from 8:00 AM - 11:00 AM.
Preschool Parents work in the classroom on a rotating basis as assigned. The Parenting Education discussions are held once a month at a prearranged time.
Age Groupings
Preschool: 3 years to 5 years
Fridays – Getting Ready for Kindergarten: extra class for 4-5 years old
Fees
Preschool:
Registration: $40.00 per year; non-refundable
Tuition: Two Days $74.00 per month
Three Days $95.00 per month
Four Days $116.00 per month
*Scholarships are available; contact membership coordinator for more information.
---
 Our Preschool Teacher:
Susan Hopper has a B.S. degree in Early childhood Education and Montessori training. She has taught children, ages 9 months to 6 years, in either infant/toddler, preschool or kindergarten setting for many years. Susan has Montessori training, and has taught preschool at Crescent Co-op since 2002. She has been a parent educator with Peninsula College since 2004.
Susan provides an environment:
that honors the way children learn best through direct, hands-on experiences with people, objects, events, and ideas.

that encourages active relationships with parents and other children to promote social growth and readiness to learn, grow, and develop to their potential.

where all families feel safe, comfortable, and excited to learn along with their young children.
Parent Requirements:
The Crescent Cooperative Preschool is a non-profit organization operated by parents with children enrolled in the program.
Co-op parents:
Participate in the program by working in the classroom.

Attend monthly parent meetings.

Help with fundraising and take on a task that helps the preschool run smoothly.

Receive college credits through Peninsula College as they enhance their job skills in the important career of parenting.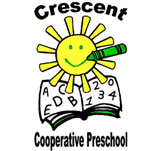 Location:
Crescent School Campus
Portable #2 50350 Hwy 112
Port Angeles, WA 98363
Mailing Address:
P.O. Box 20
Joyce, WA 98343
Preschool Information:
Susan Hopper
Phone: (360) 928-3878
Email: crescentcooperativepreschool@gmail.com