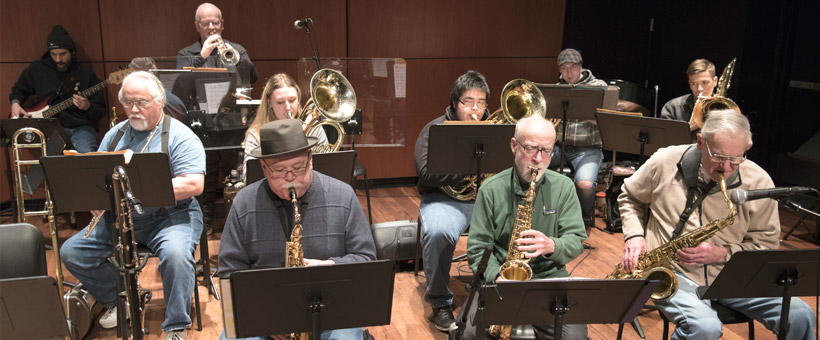 If music is your passion, you've come to the right place.
Develop your own talents and musical style as you study and practice with other students, community members and talented instructors. We offer courses in Music Appreciation, the History of Rock and Roll, and Music Theory, in addition to our first-class performance courses. Our Jazz Ensemble and Jazz Vocal groups present several concerts each year, and play to an enthusiastic fan base. Attend clinics given by guest artists from around the country and the world with members of the Ensemble and Port Angeles community. Receive individual instruction in piano and guitar with several opportunities to perform.
DEGREES OFFERED
Music Emphasis, Associate in Arts Direct Transfer Agreement (AA-DTA)
Discover your path today!
Get Started  Request Information  Explore Careers
ENROLLING IN JAZZ ENSEMBLE CLASSES
If you are a community member and non-degree seeking student, who would like to enroll in one of the Jazz Ensemble classes (MUSC 136-138, 236-138), please complete the Jazz Ensemble enrollment form. 
You may register for academic credit and tuition rates are noted on the Tuition and Fees page. 
If you are over 60 years of age and would like to Audit the class (you will not receive credit, but will participate in class), you will register as a Senior Auditor on the Jazz Ensemble enrollment form. Senior Auditors are registered on the 2nd day of class to allow students seeking credit to enroll.  
If you have any questions about the Jazz Ensemble classes, please contact Marge Rosen.   
For questions on enrolling in the classes, please contact Student Services at (360) 417-6340 (then option 2 in the phone tree message) or at studentservices@pencol.edu.