Port Townsend Cooperative Playschool
A parent-run cooperative preschool affiliated with Peninsula College's Family Life Education Program.
Program Philosophy
Children love being together! What's more, they benefit from the mental, emotional, and physical stimulation they get from being part of a group. The goal of Port Townsend Cooperative Playschool is to provide a nurturing and safe environment where each child is free to explore and interact with others. Our cooperative helps kids:
Learn to work & play successfully with children their own age
Build warm relationships with adults other than their parents
Develop self-discipline and self-confidence
Play with safe, age appropriate equipment that helps them to improve their physical coordination
Our cooperative offers parents a chance to get support, insight, and understanding from sharing the joys and challenges of parenthood with other parents.
Class Times
Children & parents attend class one day a week from 9:30 AM - 11:30 AM
During the first hour, all playschool parents stay with the children. During the second hour, the "snack parent" and the assigned helpers stay with the teacher and children while the other parents attend a group discussion led by a Parenting Education Instructor from Peninsula College. Please call the Membership Coordinator for information.
Age Groupings
9 months to 4 years.
Fees
Registration: $25.00 per year; non-refundable
Tuition: Based on a sliding scale fee of $105, $115 or $125 per quarter (11 weeks).  The sliding scale is self-determined, based on income or how much families can afford.
Scholarships are available; contact membership coordinator for more information.
Activities
We have a beautiful playroom that includes a play kitchen and a little library. Many parents have poured hours of love, energy, and hard work into creating and maintaining a space that is cheerful and stimulating, yet flexible enough to allow different children to pursue different activities at the same time.
Activities include:
Music

Art

Social Interactions

Dramatic Play

Large and Small Motor Activities
Teachers
Teacher Mariah Watson was born and raised in Southern Oregon.  She went to college at Point Loma Nazarene University in San Diego and has a degree in Physical Education with an emphasis in physical therapy.  She is a mother of four boys.
She has been part of our co-op since 2006, as a parent, board member, and now as a teacher.  She has been in the community since 2002, and before becoming a mother, worked for the Port Townsend school district with special needs children.  She has also worked at the YMCA summer camp, and for a number of years has assisted her husband who is an art teacher and a children's book writer  and illustrator.  In this role she has often worked closely with children at libraries, schools, and in her home.
Mariah enjoys making her classroom fun and inviting.  She makes it her goal to provide an interesting variety of brain-building activities and experiences.  She values the impact art has on brain development and provides the children with many opportunities to paint, craft, and create using many types of materials.  Mariah also loves to play and knows how to spark imaginations.  She will play closely with your children and help them learn appropriate and positive behavior.
 
Parent Involvement
The Playschool/Preschool is a cooperative. The benefits of this is lower cost, higher adult-to-child ratio, enhancement of the parent-child relationship, and Parenting Education through the Peninsula College.
All Playschool Parents contribute a portion of their talents, time, and energy to keep the school functioning effectively. The Board runs the Co-op business, and all the parents participate in decision making, fund-raising, and planning events. Parent responsibilities include, but are not limited to:
Assisting the teacher on a rotating basis .
Preparing and serving snack for your child's class on a rotating basis.
Attending and participating in parenting education discussion and meetings.
Serving on the board, on a committee, or another Co-op job.
Parenting Education is facilitated by an instructor from Peninsula College. Topics include child development, community resources, and other appropriate topics in parenting.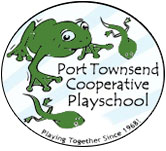 Location:  
620 Tyler Street
Port Townsend, WA
98368
Mailing Address:
P.O. Box 768
Port Townsend, WA 98368
For more information:
Contact the Membership Coordinator at membership@ptplayschool.org