---

Jim Jones in the 2013 Irrigation Festival parade.
When Clallam County Administrator Jim Jones, Jr moved from Tacoma to Port Angeles to enroll in Peninsula College in the early 1970s, one of the last things on his mind was falling in love, but something apparently was in the air in Wilfred Morrish's marketing class when Jones found himself sitting next to a very attractive young woman named Debbie.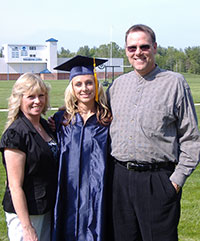 As Jones says, "Without a doubt, the biggest influence on my life coming out of my time at Peninsula College was meeting, falling in love with and marrying my wife, Debbie. It has now been 41 years together, and a daughter, Jodie, since we sat next to each other in Mr. Morrish's marketing class in 1972."
Jones is also quick to acknowledge that Peninsula College was very influential in other ways as well.
"My experiences [at PC] really helped me develop a strong belief in myself and my ability to adapt to whatever life sent my way, something, along with hard work, that I think is truly the 'secret' to success," he says.
Even as a student, Jones was no stranger to hard work. While working full-time at Swains, he also managed to play on the Pirate basketball team his freshman year and participated in several intramural sports both as a freshman and sophomore. Add to that the fact that Jones also served as Sophomore Class President of the Student Council, and you have someone destined to succeed.
When it came time for Jones to pick a college to attend, Peninsula College was an easy choice. His grandparents and several aunts and uncles all lived in Port Angeles, giving him the ability to go to school away from home, but still have folks around as a support system. It was a good choice, he says:
"I remember an independent experience on a beautiful campus that was also a safe and nurturing place to start my adult life."
Jones also remembers the number of opportunities that Peninsula College offered him as a student and has this to say to someone who might be considering it as their own alma mater:
"The variety and quality of the educational experience allows a person to sample several different paths, whether to focus on getting ready to go straight into the workplace or to go on for more formal education, PC has a broad spectrum of opportunities available to fit just about everybody."
Following his graduation from Peninsula College in 1973 with an Associate of Arts in Business. Jones transferred to the University of Washington, where he earned his BA in Business. Looking back, Jones says there were some definite contrasts between PC and UW. Peninsula College provided him with "a very good transition experience between living at home while going to high school and living on my own while attending college, without the extreme 'lost in the crowd' experience many freshmen have at the big schools like I saw at the University of Washington. Small class sizes also allowed much more individualized instruction and help from the professors than I ever got at the U Dub," he says.
Jones followed his BA with an MBA in Community Bank Management from the Institute of Financial Education at the University of Texas and went on to:
Serve as a Captain in the U.S, Air Force (1975 – 1976)

Be an Associate Broker, Clallam Realty & Century 21 Realty (1976-1980)

Become Vice President & Controller, First Federal Savings & Loan Association of Port Angeles (1980-1996)

Serve as Executive Director of Business & Operations, Port Angeles School District (1996-2006)
He is now the Clallam County Administrator, a post he has held since 2006.
---