Peninsula College is committed to the assessment of student learning for the purposes of continuous improvement, student success, and academic excellence. Outcomes assessment is the systematic process by which faculty review student learning outcomes (SLOs) and examine student achievement. Direct evidence of student learning, institutional data, and outcomes assessment reports are used to ensure educational effectiveness and quality improvement.
Advantages of a Student Learning Outcomes Approach
Students benefit from:
clearly communicated learning expectations in a course
current program outcomes that allow students to see the big picture of the knowledge and skills they will learn as they progress through a program
transparency around evaluation and grading 
Faculty benefit from:
a framework for analyzing student achievement and articulating what works well and areas for improvement  
interdisciplinary discussions and sharing of faculty stories around teaching and learning that lead to improvements
documenting evidence and justifications for resources to improve and grow programs
Institution benefits from:
supporting faculty in their efforts to support student success and continuous improvement
outcomes assessment data and faculty input that provides accountability for strategic planning and resource allocation 
outcomes assessment data for grants, accreditation, guided pathways, and strengthening communities
Measureable and Meaningful
Framed by our mission and core themes, SLO assessment is a cyclical process focused on the educational values of improving teaching, learning, and student success. SLO assessment begins with the annual review and revision of measurable and meaningful learning outcomes at the course and program levels. Curriculum maps are the bridge that aligns course SLOs with program SLOs. Program SLOs are assessed in comprehensive Academic Unit Program-Reviews (AUP-R)
Faculty Role
Faculty recognize the complexity of evaluating performance, change, and growth by utilizing a diverse array of methods to measure and gather direct evidence of student achievement. Each year, faculty assess improvements and begin the cycle of assessment again. The process is designed to show alignment between course and program outcomes while utilizing meaningful data (determined by faculty) to drive instructional improvements according to the goals and outcomes of each program.
Student Learning Outcomes Assessment Cycle 
Closing the assessment loop is the continuous cycle of collecting SLO assessment data, analyzing results, identifying actions to improve student learning, implementing improvements, and cycling back to collect assessment results.
Image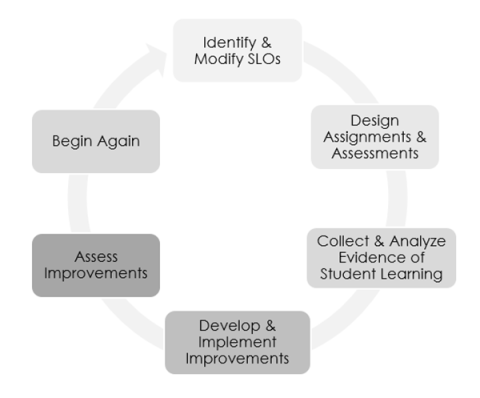 Operating Principles for Student Learning Outcomes and Assessment
Faculty with teaching responsibilities are responsible for evaluating student achievement of clearly identified learning outcomes 
SLO assessment planning will be led by faculty and emphasize an effective, regular, and comprehensive system of assessment of student achievement 
SLOs will be measurable and describe student demonstration of learning 
Results of student learning outcomes assessment will not be used in the faculty evaluation process
SLO assessment will include multiple measures and effective inter-rater reliability among faculty teaching common class sections 
Assessment of SLOs will yield meaningful results that lead to improvement of academic programs 
Faculty will demonstrate use of feedback from SLO assessment efforts to improve student learning 
Alignment of SLOs with institutional priorities, planning and budget will be systematic and intentional