Image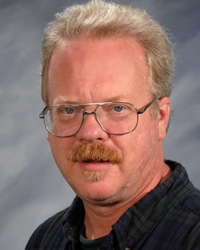 Professor - Music (Division Chair)
Phone (direct)
(360) 417-6405
Education/Training/Credentials:
DM in Composition: Indiana University (1995), (minors in theory and jazz studies)
MM in Composition: New England Conservatory of Music (1991)
BM in Composition: University of Washington (1989)
Teaching Philosophy:
I have taught courses/private lessons in Composition, Arranging, Theory, Ear-Training, Music Appreciation, History of Rock Music, Jazz Ensemble, Improvisation and Piano.
My compositions have received over 300 performances in Paris, Stockholm, New York (including Carnegie Recital Hall), Boston, Miami, Cleveland, St. Paul, Seattle, San Antonio, Tanglewood Festival, Interlochen Festival, and many other locations in France, Sweden, Denmark, Belgium, Netherlands, Finland, Switzerland, Poland, Brazil, Canada, Australia, Japan, Malaysia and the USA. Performers have included St. Paul Chamber Orchestra, Seattle Symphony, Bob Curnow Big Band, Mark Hetzler, Louisville Brass Ensemble, Boston Trombone
Composition awards received from St. Paul Chamber Orchestra, Marimolin, Society of Composers, International Trumpet Guild, International Horn Society, International Trombone Association, and the Percussive Arts Society.  Music released on eleven commercial CD's on Polymnie (France); Nosag (Sweden); and Summit, Centaur and Coronet (USA).
Research / Professional Interests:
My compositional activities have fully engaged my background and training in Western Art music, jazz, rock, and various world traditions.  I am currently involved in creating both new and historically based arrangements for the Peninsula College Jazz Ensemble.
My research in the area of music history has resulted in the creation (and frequent revision) of two courses: Music Appreciation and History of Rock Music.
I am constantly looking for new ways to increase my effectiveness of a teacher of music appreciation, jazz ensemble, composition and piano in the context of a community-college environment.